Photo: Mardi Gras Indian at Jazz Fest. Courtesy of Tulane Public Relations / Wikimedia Commons
---
The KBUT Fish Fry is tonight! (Buy your tickets here!) This year's event is bigger and better than ever, with live music and a special appearance from Tribal Gold, Mardi Gras Indians known for their dazzling costumes and parades.

Despite growing up in Crested Butte, youth reporter Nola Hadley is no stranger to New Orleans culture, as her father, Andrew Hadley, hosts the long-running KBUT favorite 'Friday Night Fish Fry,' two hours of New Orleans and Cajun-inspired music heard every Friday from 7 p.m. to 9 p.m. Andrew's show is also the inspiration for tonight's event!

Nola, a student at the Crested Butte Community School, filed this report on the lesser-known history of Mardi Gras Indians.
The first known Mardi Gras Indian celebration took place in 1746. In that time period, on Sundays, slaves gathered in Congo Square in the Tremé neighborhood of New Orleans. They celebrated their African heritage with drum music, singing, and dancing.
Around the same time, Native Americans were being abducted and enslaved. Many of them escaped into the swampy bayous surrounding New Orleans. It was in these bayou camps that fugitive blacks and other slaves were taken in by native American tribes who were forced to flee as white settlers took over the west. They lived together in "maroon camps" in the bayous, where their cultures blended.
As a tribute, the former fugitive slaves and their descendants continually commemorate this history. They honor the indigenous people who gave shelter and guidance to their ancestors by masquerading in costumes inspired by their Native American saviors. They call themselves the Mardi Indians.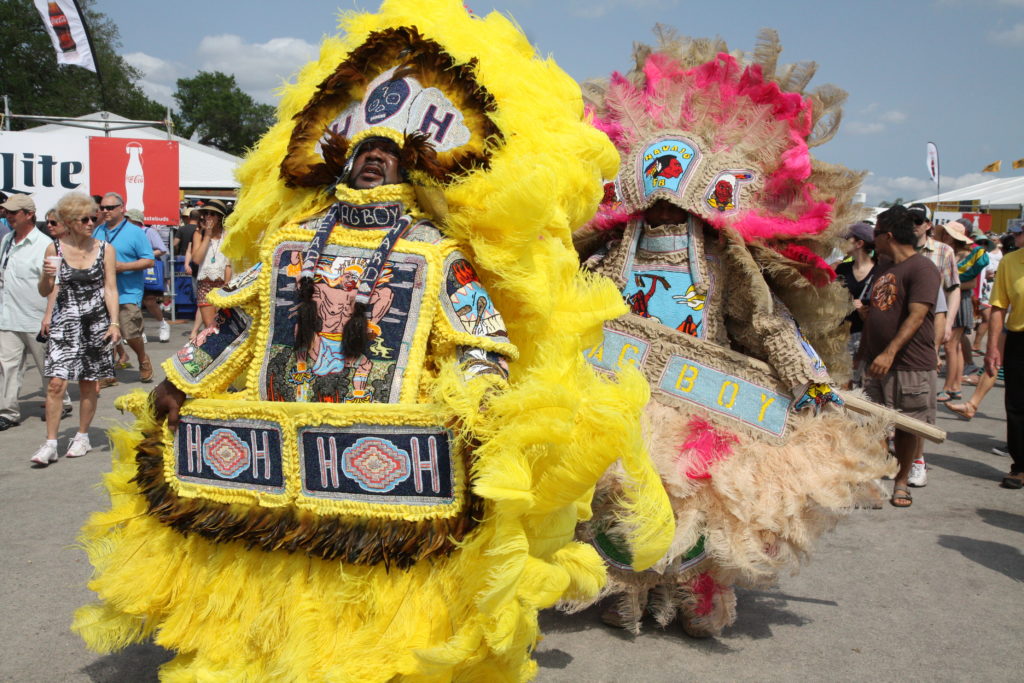 Originally, since black people were not welcomed at the main Mardi Gras festivities, they formed their own. On Mardi Gras, the police were focused on the bustling French Quarter, providing the perfect opportunity for the Mardi Gras Indians to parade through Tremé. Despite facing push back from the government, including the banning of masks, and making it illegal for black people to gather, the tradition continued underground.
At one point in their history, these tribes were associated with gang rivalries, which occasionally resulted in violence. In the 1970s, the leaders of the tribes, known as big chiefs, made a commitment to stop the violence and make the Mardi Gras Indians a mainstream part of New Orleans culture. Now, inter-tribal competitiveness revolves around dancing, singing, and creating the best suit. Their motto is "Kill 'em dead with needle and thread."
Music has always been a central part of the celebrations. Many Americans know the song "Iko Iko" by the Dixie Cups but don't realize that it's about two Mardi Gras Indian tribes. It includes the lyrics:
"My flag boy and your flag boy were sittin' by the fire. My flag boy told your flag boy 'I'm gonna set your flag on fire.'"
A flag boy walks in front of the parade carrying the flag of his tribe.
Besides music, the most central element of the Mardi Gras Indian tradition is the suit. Each person makes a new, unique suit for themselves every year, spending months sewing on beads and gluing on feathers, all by hand. After Mardi Gras, St. Joseph's Day, and Super Sunday, the 3 holidays where the suits are worn, they disassemble the suits or donate them to museums and start fresh on a new one.
Tonight at the KBUT Fish Fry, the community will be able to see this ornate attire in person! Festivities begin at 4 p.m. at Crank's Plaza in Crested Butte.
-Nola Hadley