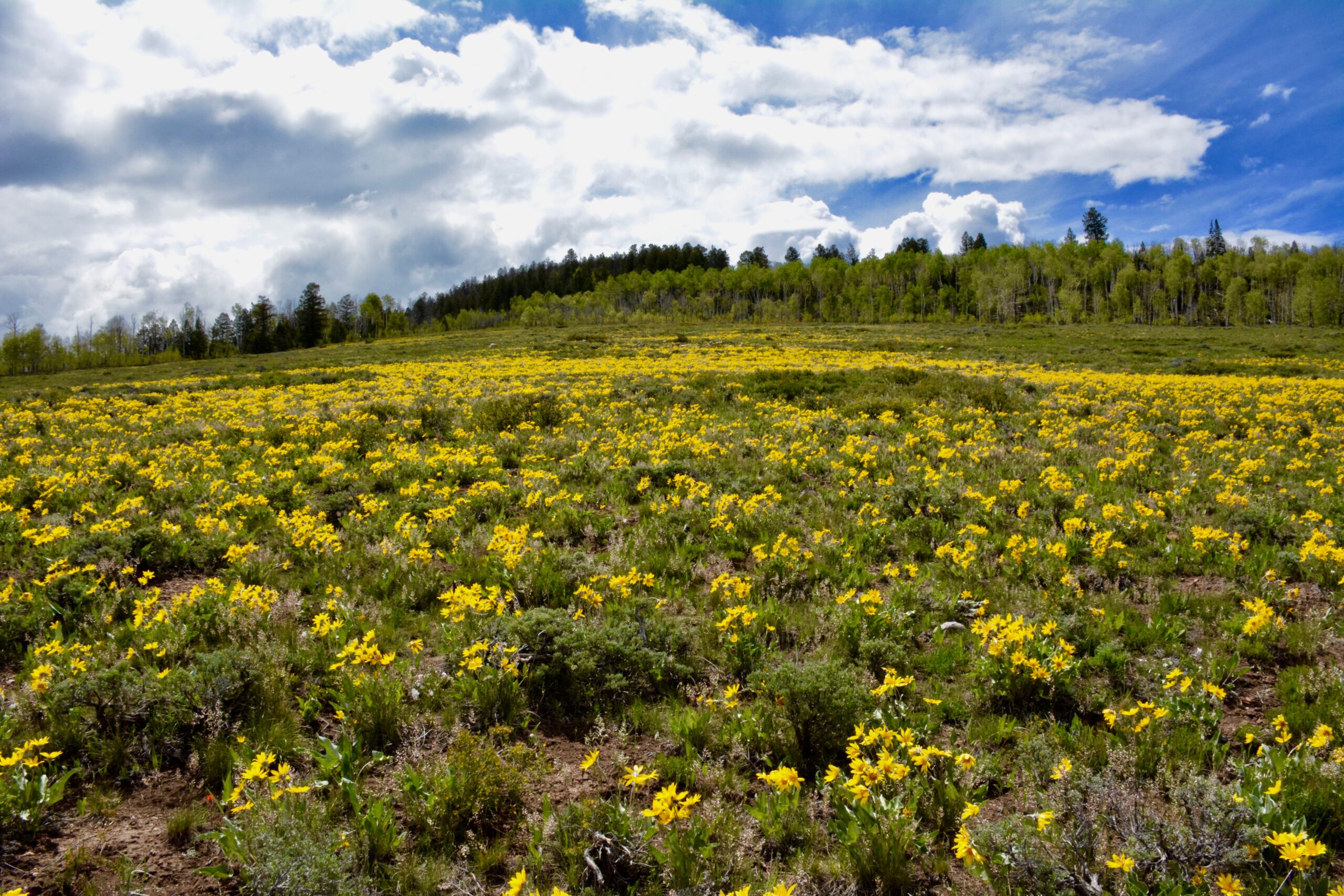 Rolling hills of bright yellow flowers have brought people far and wide to witness what many are calling a super bloom throughout the Gunnison Valley.
KBUT recently caught up with Rick Reavis to find out why we're seeing so many big blooms this season.
Reavis is a horticulturist and author of the book, "Rocky Mountain Wildflower Guide for Crested Butte Colorado and Beyond." He also serves as an interpretive guide at the Rocky Mountain Biological Laboratory where he leads wildflower hikes for folks who want to learn more about the environment.
So essentially, what makes Crested Butte unique as the Wildflower capital of Colorado, we have a sub structure of of a type of rock a shale, and it's Mancos shell and the Mancos shell is prevalent in our area.
Reavis said while rain is important, its really the snow that makes or breaks the flower season. According to Reavis, as the snow melts the Mancos Shales essentially acts as a sponge, soaking up moisture from the snow and then slowly releasing that back into the soil.
Without the snow without the snow we would not have the wildflowers that we do here the floor we have approximately 1500 species of flowers, it would be more of like a sagebrush area.
Our 'end of the road resort town' is also isolated and that helps to preserve the thousands of plant species here.
We have, you know, without the isolation of disturbances from other influences. It has allowed species diversification that we have here.
Oh and as for those yellow flowers taking over the hills – they're called Arrowleaf Balsamroot. And Reavis said the flower is easy to identify.
You look at the roots, I mean, the leaves, you can see that there, they look like an arrow shape triangular like this.And then, if you turn the fire either on the side on the back, these brackets are very, very distinct, huh?  Because you know, it likes to clay soils.
It's also good to understand outdoor etiquette when navigating these areas. According to the Crested Butte Wildflower Festival's website, there are a few simple rules to keep in mind. That includes staying on identified trails, not disturbing pollinators like bees and as Reavis says, if you have the urge to pick a flower – IN ONE WORD NO … 
Last year, we had just around 21,000 people. I don't know what the statistics are, you know, from the chamber, how many people come to Crested Butte, but I know it's in the 1000s. And imagine if you had 1% of those 1000s of people picking one flower. Yeah, save it for that next person.
You just heard Rick Reavis talking about this season's wildflowers.
The Rocky Mountain Biological Laboratory is an underwriter for KBUT.