Photo: (From L to R) Mayor Pro-tem Lauren Daniels of Mt. Crested Butte, Mayor Jim Schmidt of Crested Butte, Mayor Janet Farmer from Mt. Crested Butte, and Mayor Pro-tem Paul Merck of Crested Butte listen to representatives from Gatesco presenting on the new design plans at the Crested Butte Community School this past Tuesday. Credit: Christopher Biddle
---
The four owners of the 14-acre Brush Creek parcel south of Crested Butte and representatives from Gatesco, the developer of a possible workforce housing project, met Tuesday night. It was the first such meeting since Gunnison County Commissioners mandated that a consensus of three of the four owners must be achieved before Oct. 31 in order for the project to move forward.
In attendance were members of the Town Councils of both Crested Butte and Mt. Crested Butte, County Manager Mathew Birnie, and Crested Butte Moutain Resort (CBMR) General Manager Tim Baker. The latter two stayed mostly quiet while members of both town councils questioned Gatesco Attorney Kendall Burgemiester on details of the new plan. Their concerns ranged from deed restrictions, to water supply, to parking. The new plan submitted by Gatesco met a required 156 unit cap imposed by the Towns, but failed to meet a minimum of 2 parking spaces unit. The county's land-use regulations stipulate a minimum of 2 spaces per unit, but also allows for less than that in the case of a workforce housing project. Here's Gatesco attorney Kendall Burgemeister.
"One of the sort of warning signs back in the 2016 Housing Needs Assessment was — hey guys — if you want to stifle the development of workforce housing, one thing you could do is impose overly burdensome parking requirements, because that makes it more expensive to develop," said Burgemeister.
The issue of storage arose as somewhat of a new concern, dominating a large portion of the conversation, and leading to an interaction between members of the councils and Burgemeister that ended up putting the Gatesco attorney into some hot water.
Roman Kolojedge of the Mt. Crested Butte Town Council took issue when Burgemeister said that the company believes if people have enough money to own a boat (referring to motor boats) then they probably have enough money to either live somewhere else or to store the boat at a storage facility. Kolojedge slammed the attorney for underestimating the community's love for outdoor recreation.
"To assume that somebody has a different or the same value system as you, is very ignorant, "said Kolodjege. "People value outdoor recreation. So that's why somebody might work nights dish w so they can see hundred 20 days a year."
After two hours of discussion that included input from the public and brief comments from County Manager Mathew Birnie and CBMR Manager Tim Baker, the group appeared no closer to an agreement.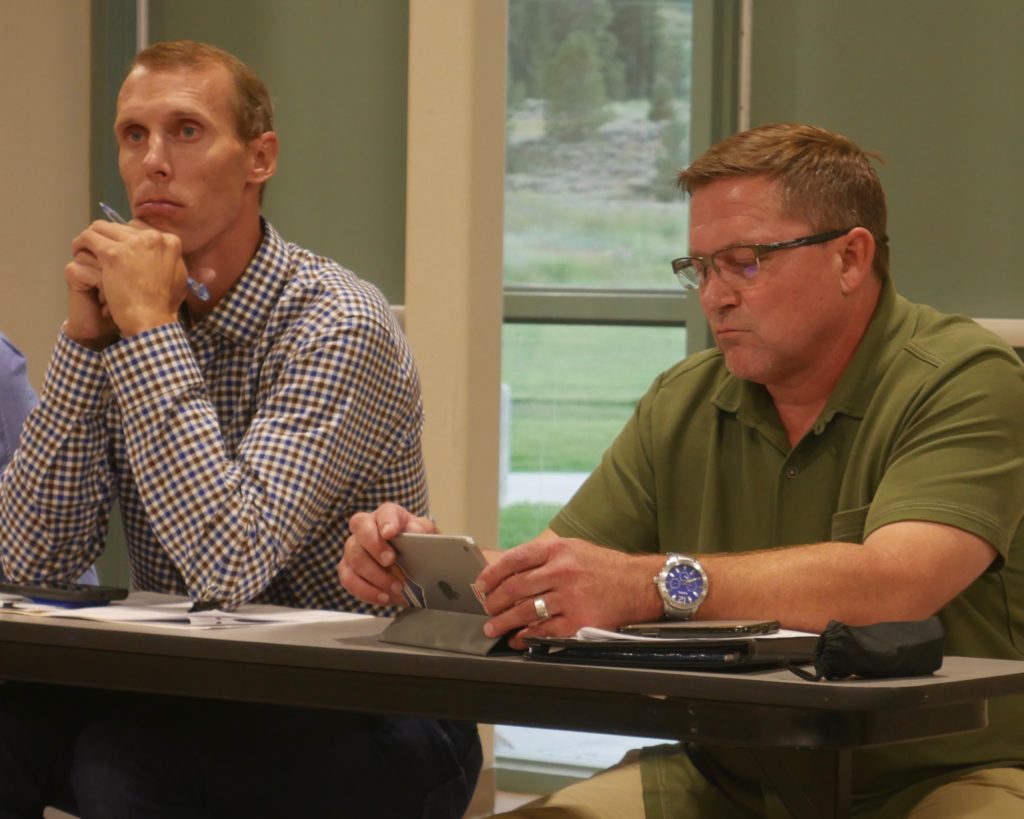 Jim Starr is the chair of the Valley Housing Fund, formerly the Gunnison Valley Housing Foundation. He addressed the group with concern following their discussion. "I think a lot of questions were good questions, but I get a sense from the group that the group is looking for a way to say no instead of yes," said Starr.
"And I think you need to look seriously at the fact that if this doesn't get built, it's going to be another three or four years before anything is built on that property," said Starr. "The time is now I ask you to please open your minds. Don't destroy a good project. looking for the perfect."
Both Towns have the Brush Creek Project on their agenda for their next meetings. Crested Butte, which normally meets on Monday evenings, will bump their next one to Tuesday, Sep. 3 due to the Labor Day Holiday.