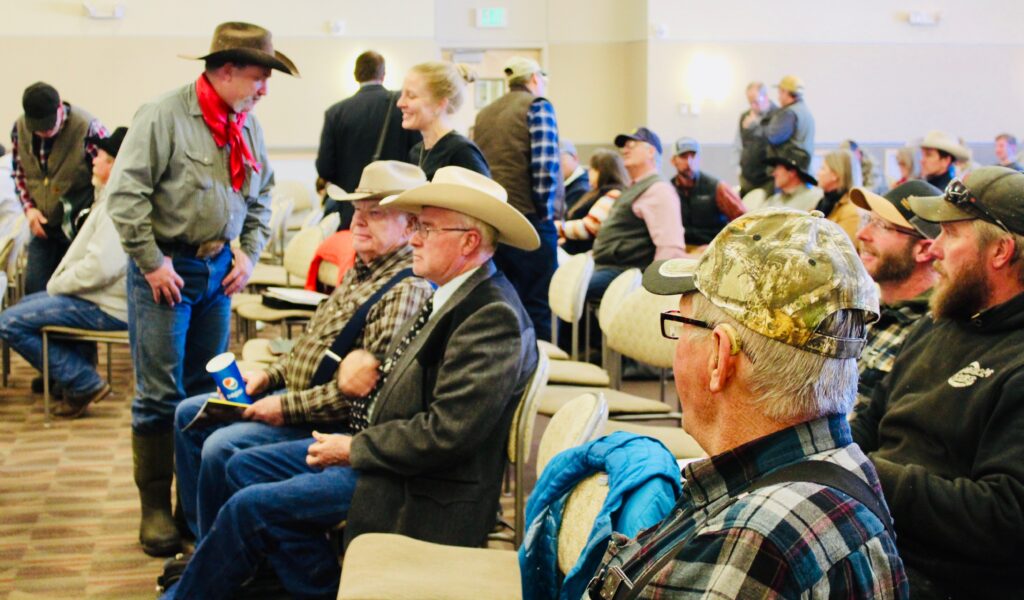 By Kate Gienapp
Nearly two years after Colorado voters narrowly passed Proposition 114 asking Colorado Parks and Wildlife to reintroduce wolves on the Western Slope, the agency has a plan. KBUT's Kate Gienapp reports. 
Colorado Parks and Wildlife released a nearly 300-page draft plan and held their first meeting on the Western Slope in the City of Gunnison last week.
Two large areas have been proposed for consideration as wintertime release sites in western Colorado. The first includes a northern area along the I-70 corridor between Glenwood Springs and Vail, extending down the Roaring Fork Valley. The second, is the southern area along the Highway 50 corridor between Monarch Pass (east of Gunnison) and Montrose. The plan aims to relocate 30 to 50 gray wolves from northern Rockies states over the next three to five years beginning in 2024.
While the measure narrowly passed statewide, a vast majority of Gunnison County voters, 57%, opposed bringing wolves back to the state.
Some of the biggest concerns were expressed by ranchers in the valley, who worried about the financial impacts of another apex predator on public lands.
Dave Todd, who operates a ranch in northern Gunnison County said compensation can be complicated. When a herd is on the range and a cow is killed, there could be heavy snow or even areas that are inaccessible by horseback – and those delays could be detrimental to business.
The current draft plan calls for ranchers to get up to $8,000 for every animal killed by a wolf, but many in attendance last week said that's simply not enough.
Dave Todd: I saw very firsthand the devastation that coyotes can do on a herd last winter. It was devastating. Wolves are going to be worse.
Doug Washburn of Spann Ranches in Gunnison said he too is worried about the proposal's lack of funding.
Doug Washburn: "A big concern of mine, like everyone else around here is the funding, we're having these big in depth conversations about what we're going to do. And there's no money to do anything. Really putting the cart in front of the horse here."
Jason Peterson whose family has been ranching in Gunnison for generations said the profit margins for ranching are slim to begin with, and the presence of wolves could put them over the edge.
Jason Peterson: Any undue burden on the cost of placing mitigation matters measures, adding riders, altering our operations will inevitably come closer to putting us out of business.
Even still, Peterson said one of the biggest misconceptions is that ranchers don't care about wildlife like wolves or conservation.
Jason Peterson: We don't do it for the profits. We do this for our heritage, for our kids down the road, to preserve livestock, to care for livestock, to care for landscapes to help CPW manage the private ground and the public ground that all of our animals our game animals habitat on.
Wolf advocates were also in attendance. Paula Warner of WolfWood, non-profit refuge for wolves and wolf/dogs outside of Bayfeild spoke in support of reintroduction, despite trepidation from fellow volunteers.
Paula Warner: It was always a complicated conversation. What I don't think many people realize is how many animal advocates did not vote for reintroduction? Well over half of Wolfwood volunteers and supporters voted against it.
Warner said she has high hopes for humans and wolves to coexist in the state.
Paula Warner: I voted on the side of hope. I thought Colorado had a unique chance to do this right and to be a model. I have to believe we can do better. I took a chance on common sense and collaboration and thoughtfulness. I took a chance on you.
The commission will approve a final Wolf Restoration and Management plan in early May at their meeting in Glenwood Springs.
For KBUT, I'm Kate Gienapp.