Photo: The Gunnison Sage Grouse is an endangered species. It's largest populations are in Gunnison County (pictured here) and Eastern Utah. Credit: Alan Schmierer/Wikimedia Commons
---
Gunnison County Commissioners are taking issue with a federal plan to establish up to a mile wide energy corridor south of Gunnison. The section 368 Energy Corridor would be the result of the Energy Policy Act of 2005, which asked federal agencies to designate thousands of miles of energy corridors to be used for the transfer of oil, gas and electricity.
On Tuesday, County Commissioners pointed out that plans for the corridor south of Gunnison send it right through critical habitat for the Gunnison Sage Grouse, which is an endangered species specific to Gunnison County and portions of eastern Utah. The new energy corridor would align with an existing, much smaller one.
I think it's just a lack of any thoughtfulness and the fact that they're a federally listed species. . . We've got habitat concerns. We've got all these things we're being held accountable for yet in their own planning process, they paid no attention to any of that And yet that it was literally like how there's the WAPA line, let's just parallel that. Make it wide enough for any contemplate of all future need."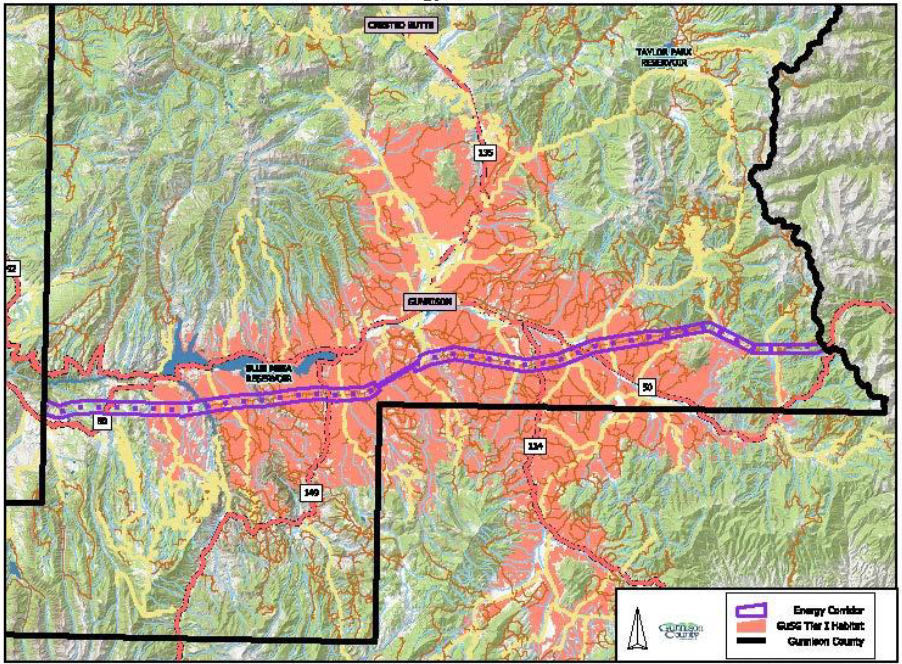 Houck also said that federal projects that impact Gunnison Sage Grouse habitat usually end up with the County responsible for mitigation.
At their regular meeting on Tuesday, County Attorney David Baumgarten characterized the habitat as "probably the most important habitat to that species left on the planet." The Commissioners must submit their comments before the comment period deadline which is Monday, September 23.