KBUT's Community Matters airs live every other Monday. The show is hosted by KBUT News Director Christopher Biddle, and veteran Gunnison County journalist Chris Rourke.
Our guests this week were…
Gunnison County Health and Humand Services Director Joni Reynolds, talking about a recent spike in COVID19 related to travel during spring break. She also updates us on the vaccine rollout, which now includes all adults regardless of age or health status.
The Little Blue Creek Canyon Project on US Highway 50 gets underway next week. What do you need to know about traveling west from Gunnison? We talk to Kathleen Wannatowicz, a public information officer about the project's expected delays. We also share resources to stay updated on the project and road closures.
Sonja Chavez and John McClow of the Upper Gunnison River Water Conservancy District. Water is becoming a scarce resource in our region and the wider western United States. Who are the players involved, and what are they doing to solve this crisis?
Listen to the full episode →
---
Pt. 1: Public Health Director Joni Reynold on COVID19
A recent spike in COVID19 has brought the County's positivity rate of COVID19 just over the 5% level on concern. Reynolds says that similar to waves of the virus following holidays and other school breaks, the bulk of the cases are directly attributable to travel outside the County.
Reynolds also talks about the COVID19 vaccine rollout, including thoughts on why Gunnison County chose a specific method for distribution. All adults in Colorado are now eligible for the vaccine regardless of age or health status.
---
Pt. 2: Little Blue Creek Canyon Project.
For the next two years, a massive collaboration between multiple federal, state, and local agencies will perform upgrades and maintenance to a four mile stretch of road on US Highway, close to halfway between Gunnison and Montrose. For at least the first year, travelers will have only 2 hours in the morning , one hour during lunch, and two hours in the evening to pass through the work zone.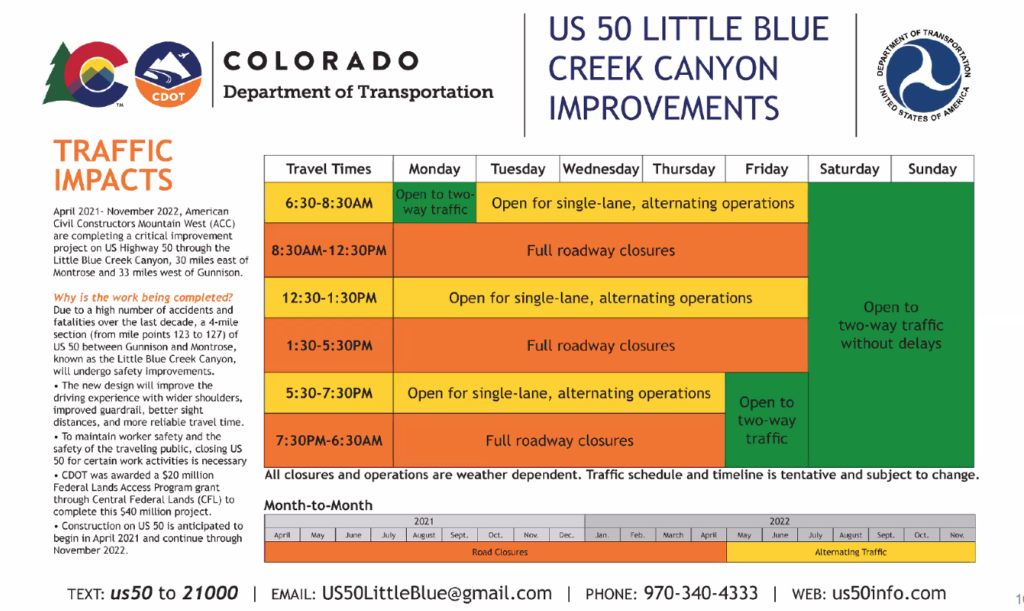 ---
Pt. 3: Sonja Chavez and John McClow
We cover the basics of water in the Gunnison Valley and beyond. Who are the players involved? What issues do they contend with? Are we in a drought? Are we running out of water long term? What can be done to preserve water in the Gunnison Basin?
Learn more about Community Matters on KBUT
Every two weeks, we sit down with community leaders, and ask our listeners to send in their questions.
We want you to join the conversation. Email News@kbut.org or click here.
Community Matters airs every other Monday at 6pm.