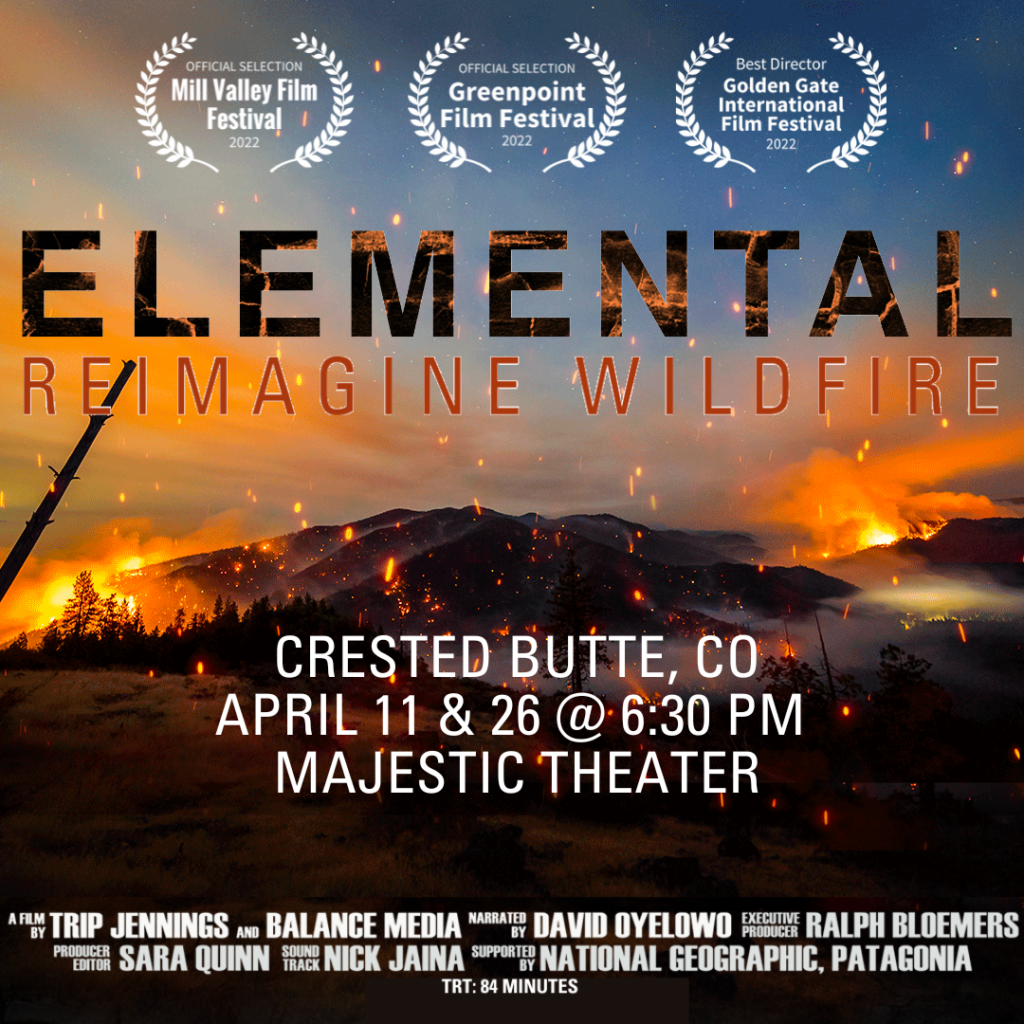 By Kate Gienapp
The Documentary, "Elemental: Reimagine Wildfire" premieres at the Majestic Theater in Crested Butte tonight. KBUT caught up with executive producer Ralph Bloemers to talk about what it means to rethink the deadly wildfires across the west. 
The film follows the wake of wildfires in Oregon, California, Colorado and New Mexico. Climate experts, firefighters, indigenous peoples and fire survivors share their experiences as the world prepares for an increasingly hotter future.
For nearly two decades, producer Ralph Bloemers has worked on wildfire and community safety, and restored burned landscapes.
He said the film is not only educational, but cathartic for viewers facing environmental crises.
We get this all the time last night, we had a lot of people come up to us after and say, we feel I feel so much better after seeing your film. Because just that, that feeling of like this mild or pretty strong trauma, even if you're not a fire survivor from fire, but just having an environment change around you. And in feeling that, but not really being able to put words to it. But then moving from that place to a deeper understanding, and acceptance and for wildfire, I think is actually healing for a lot of people.
Bloemer said it's important for communities to see how the forest is impacted by fire, and how these environments are restored. He reflected on what it was like to watch an elementary student observe the aftermath of wildfire and see new growth.
I realized in that moment, and more reflection later that being able to spend time in the forest, see what happens see that it was regenerating, gave her understanding and then allowed her for the first time in two years to feel like the fire was no longer present in her life.
Fortunately, Bloemer said there's many things folks can do to protect themselves and their neighbors against wildfires.
So, you know, this is something we can all do. And it's a weekend project to start with, make sure your gutters are prone clean, or maybe get rid of them and do it to a friend stream. Make sure that bark mulch is pulled five feet away from your home, and that you have non combustible material under your siding.
The documentary film "Elemental: Reimagine Wildfire" will play tonight and again Wednesday, April 26th beginning at 6:30 pm at the Majestic Theater in Crested Butte.
The Majestic is an underwriter for KBUT.