Photo: The Call Center for the Gunnison County COVID-19 response team. Courtesy of Gunnison County
By Stephanie Maltarich
Arden Anderson knows volunteering isn't a new concept for residents of the Gunnison Valley.
"I continue to be impressed with the willingness of people of Gunnison County to step up and help out," Anderson says. "And volunteers are almost by definition necessary to get many things done within the county."
Anderson is the volunteer coordinator for the Gunnison Pandemic Response. It was clear to the incident management team from the beginning that as a small county with limited resources, they would need volunteers. Now, Anderson manages a database of roughly 600 volunteers.
---
---
"You look at 600 people are willing to help out, that's almost four percent of people willing to help out in the entire county, that's pretty impressive," he says.
Anderson says in a given week, an average of 250 volunteers are spread out across various volunteer roles. As of April 24th, the county had logged over 7,000 volunteer hours.
There are many roles for volunteers to fill. From the call center to the delivery driver hotline; packing boxes at the food pantry or delivering meals to seniors. Translations, handing out school supplies, sewing masks — the list goes on. Anderson has more volunteers than he needs, which he admits is a good problem to have.
The county courthouse in downtown Gunnison houses two important volunteer programs: the delivery driver hotline and pandemic response call center.
The delivery driver hotline distributes essential items such as groceries and medications to people who have tested positive for COVID-19, the elderly or others who are quarantined. Volunteers are required to take a safety training where they learn how to take proper precautions, and they are given supplies such as gloves, hand sanitizer and masks.
When I asked Brian Hadley, the supervisor of the delivery driver hotline, if community members have been happy with the service, he nodded enthusiastically.
"Oh yes, yeah absolutely," he says. "Everybody who calls in could not be any more appreciative of this and helping them stay healthy and safe."
Hadley says there has been a huge interest from community members who want to volunteer. Yet, rarely are there open shifts for people to sign up. Recently, a volunteer canceled because she felt sick.
"I think I checked back not even a half-hour later, and there were already people's names filled in," Hadley says. "It made me think, oh sweet, this valley is awesome!"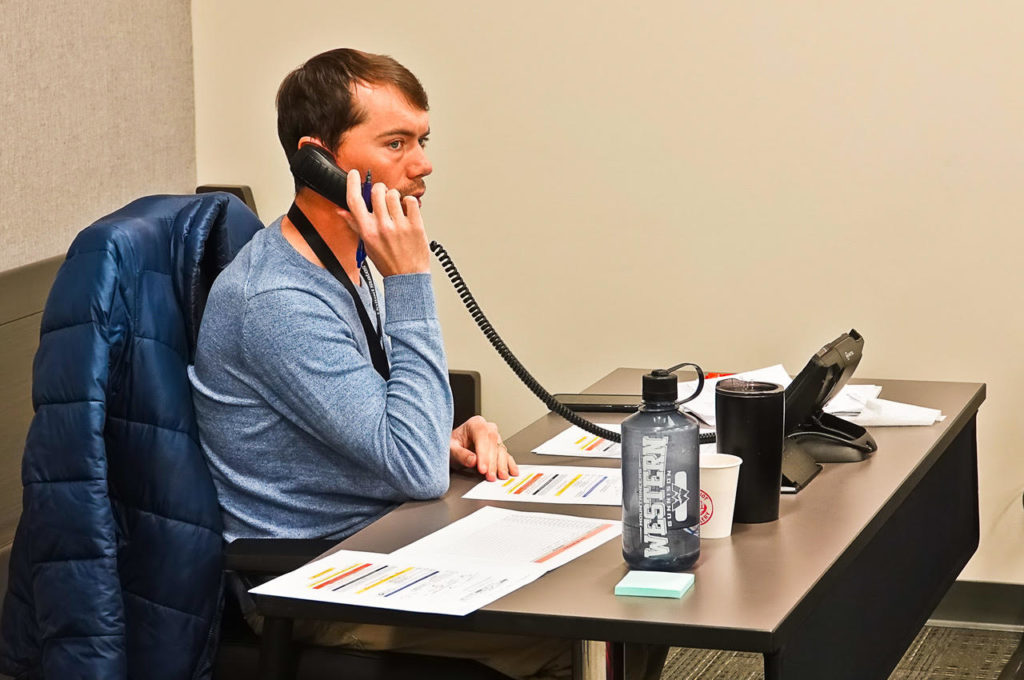 The call center, managed by Jodie Chinn, is staffed by county workers and dedicated volunteers. In some ways, it has become a catch all for questions from community members.
Arden Anderson knows things are changing quickly. They've already seen some volunteer programs start to diminish. The call center, for example, has scaled back its volunteers and hours because they've seen less calls over the past few weeks. Although they can't predict the future, the volunteer program will remain prepared.
"Obviously, there are a lot of unknowns in this incident, and we can't say exactly what's going to go on, but we are anticipating things that we want to do and starting to stand up the ability to do that," Anderson says.
I talked to Anderson at the end of National Volunteer Week. He felt it was necessary to reflect on the importance of the volunteer work taking place in the valley, especially during this unprecedented time.
"I want to make sure all the volunteers out there to know how much the incident command team appreciates the time and effort and passion they brought to the jobs here, and it's really made a difference in helping our community get through these difficult times."