Editor's Note: This series is brought to you through KBUT's partnership with Rocky Mountain Community Radio and Capitol Coverage a collaborative public policy reporting project, providing news and analysis to communities across Colorado for more than a decade. Eleven public radio stations participate in Capitol Coverage from throughout Colorado.
Part One: Rural Coloradans have done strange things to get internet. For some, those days are almost over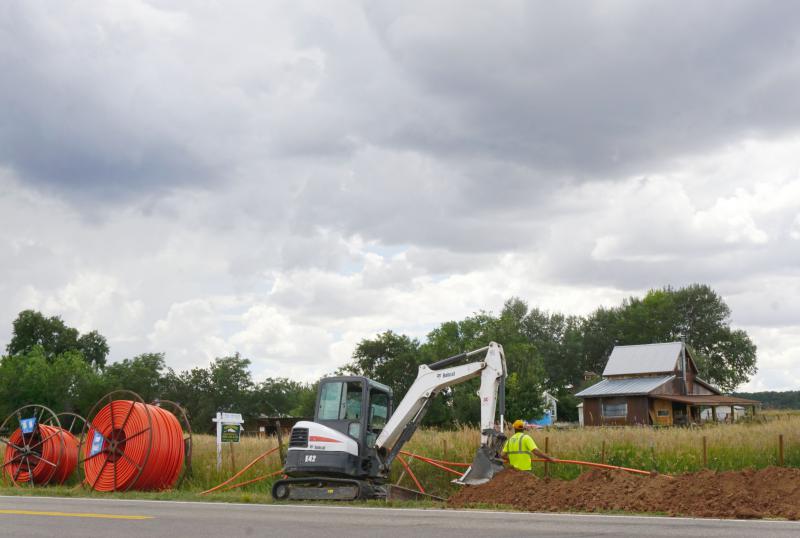 By Scott Franz/Capitol Coverage
NORWOOD- People living in the small farming town of Norwood have done some strange things to stay connected to the internet.
For example, librarian Carrie Andrew said the security cameras at the library once captured a young man arrive on his bicycle after hours to utilize the building's blazing fast Wi-Fi.
"The mosquitoes are so bad that he's riding in circles while he's using his phone so the mosquitos won't bite him," Andrew said. "But he was in our parking lot for 30 minutes using our internet because he didn't have access to it anywhere else."
The people trying to change this situation have also found themselves going around in circles sometimes. Erika Lapsys works for the Telluride Foundation, a non-profit that has spent years trying to expand broadband to the rural parts of San Miguel County.
The easiest way to get broadband to Norwood residents would have involved sending the signal through a piece of fiber optic cable that was already buried years ago between the towns of Nucla, Norwood and Telluride.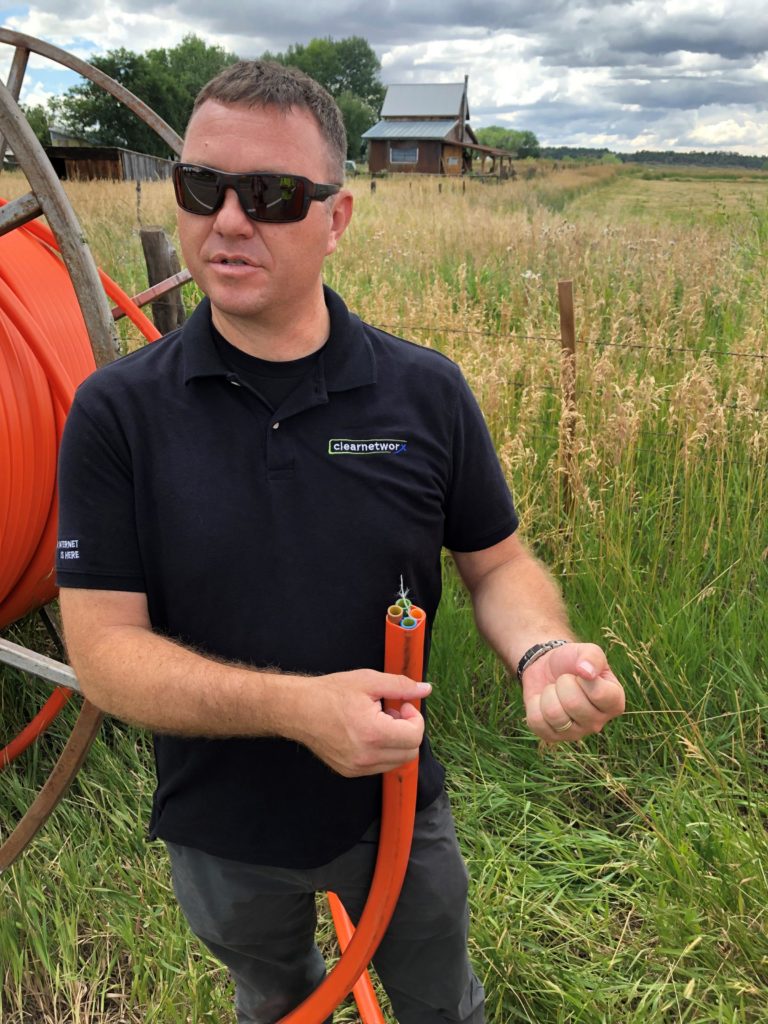 But some landowners along the route declined to give their permission for a variety of reasons. Lapsys said she couldn't track some of them down to ask them for the easement. And others who did answer the phone demanded a significant amount of money.
"I had a guy, one of the California guys who doesn't come out here very often, who said you can pay me $400 a month for 10 years," Lapsys said. "And I said 'where did you get that number from?' And he said 'well that's what I think it's worth.' Well we're going to go back and forth because I don't think it's worth that."
But Lapsys was still determined to find a workaround. So, the Telluride Foundation and other broadband advocates secured a $760,000 grant from the state and federal governments to build a new fiber optic line around the landowners who wouldn't give their blessing.
After four years of work, the section between Nucla and Norwood is just now being completed.
"Could that money have gone to other places that didn't have existing assets? Probably," she said. "I like to think they gave us the grant because we needed it. Because without it we were stuck."
Now, Lapsys is still trying to convince landowners on the final stretch of the fiber route to Telluride to give their blessing so they won't have to build another costly workaround.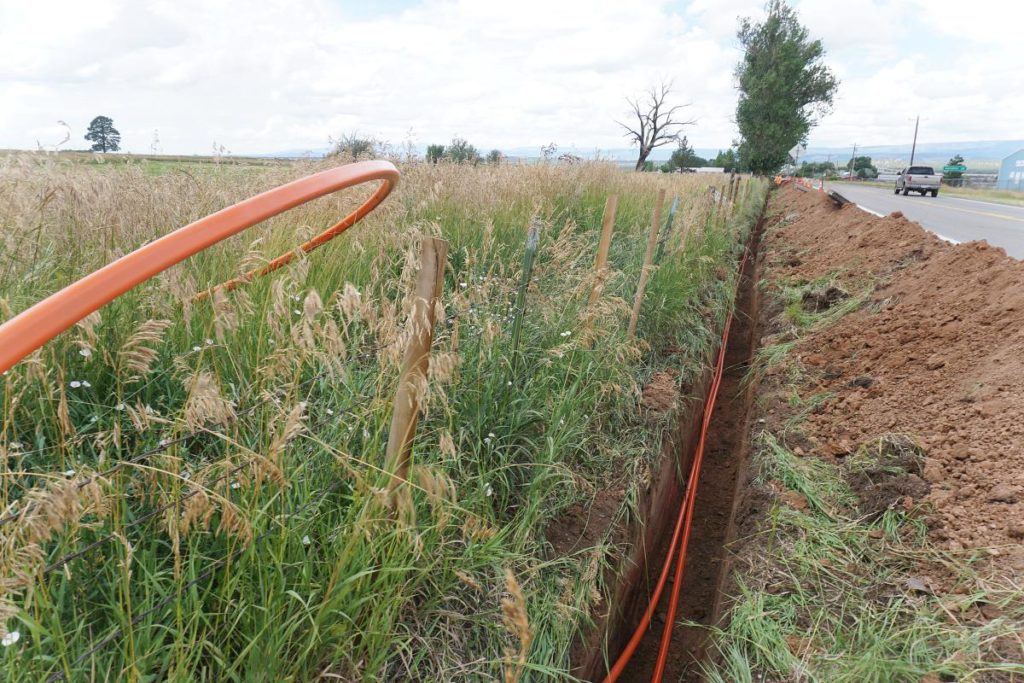 "People want to live here for a number of different reasons, and it's not fair to say well there's no broadband, it's not worth it, you can just leave," Lapsys said. "People have generations who have lived here. And to tell someone that it's not worth it to improve the quality of their living because it's too expensive or it's too hard, it's just not fair."
What's at stake
Stop into the Lone Cone Library in Norwood, and it's easy to see what Lapsys is fighting for.
Thanks to the recent arrival of the fiber, the library just got connected to Clearnetworx, a broadband service that is significantly faster than residents have been able to get. In the computer room, residents are taking advantage of this new service to look up recipes, do homework and catch up on the news.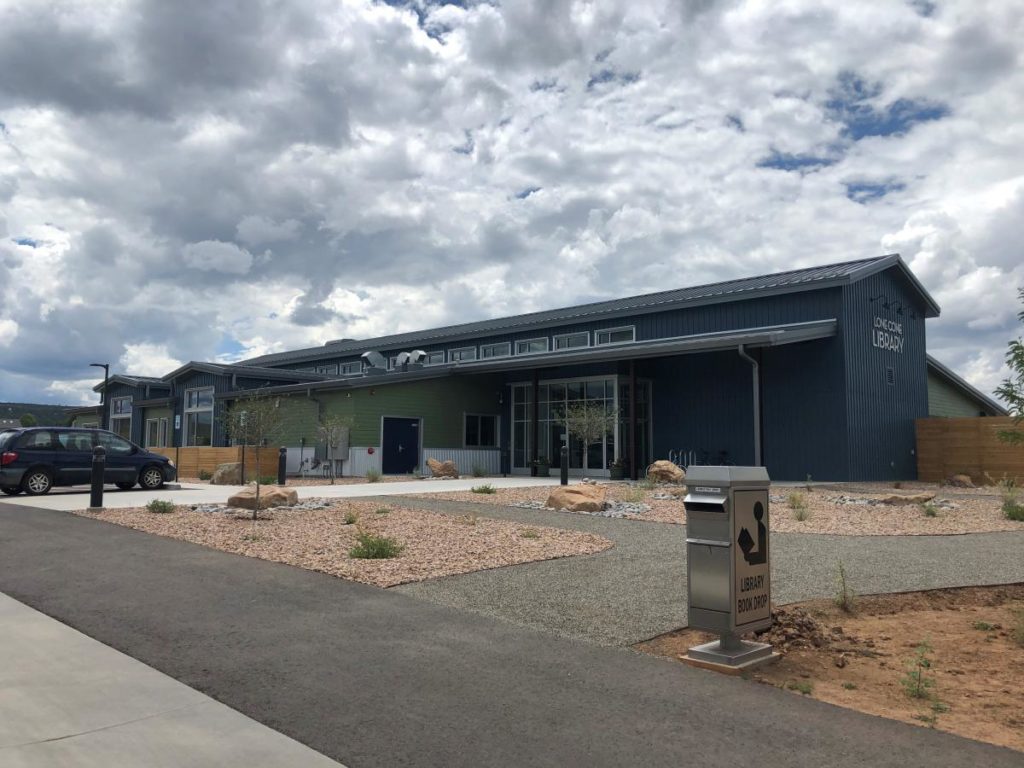 "I've kind of always felt like Norwood is the ugly stepsister in San Miguel County, but now we're like 'look at us we've got a beautiful brand new library with all this technology and we're really grateful," librarian Megan Coxwell says as she gives a tour of the new building.
She said the new connection will allow more Norwood residents to stay in town and not look for jobs, and better connections, elsewhere.
"We can do whatever you need to do from this tiny little town," she says as she shows off a new room where residents can hold video conferences. "You don't have to leave. Which is nice for a lot of us who don't want to drive 40 miles or 120 miles to get somewhere else."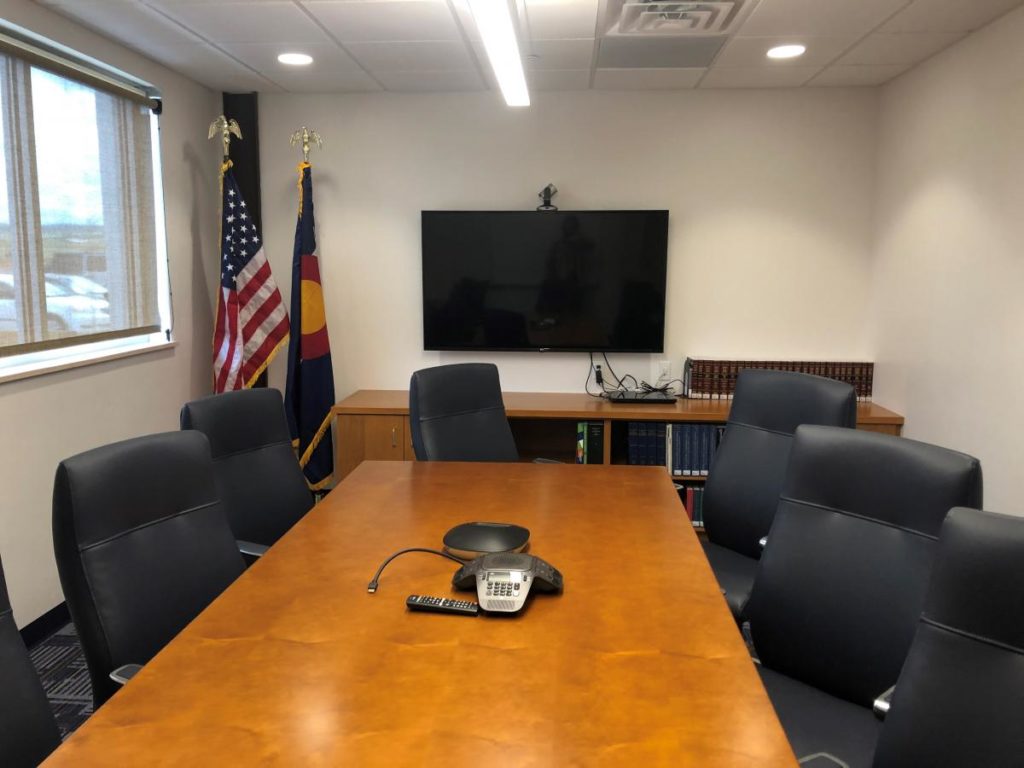 Still waiting
Drew and Grant Doorn are trying to make fly fishing apparel look, well, cooler. Their fishing apparel shop in the tiny town of Placerville is full of colorful hats and custom printed tee shirts.
"We're seeing a little bit of the retro 90s stuff becoming a trend this summer," Drew Doorn said.
After finding success at the farmer's market in Steamboat Springs, they took their business to a building that used to be an old train station just outside of Telluride. But they have one big problem.
"We use the line of site microwave internet, which tends to be really spotty," Grant Doorn said. "It really impacts our business in a negative way because sometimes if the internet goes down for a long period of time, we can't print orders. We can't ship orders. So a lot of times we're just dead in the water when the internet goes down."
All of the cities and towns around them are getting connected. But for now, they're still waiting for someone to take on the challenge of bringing them high-speed internet.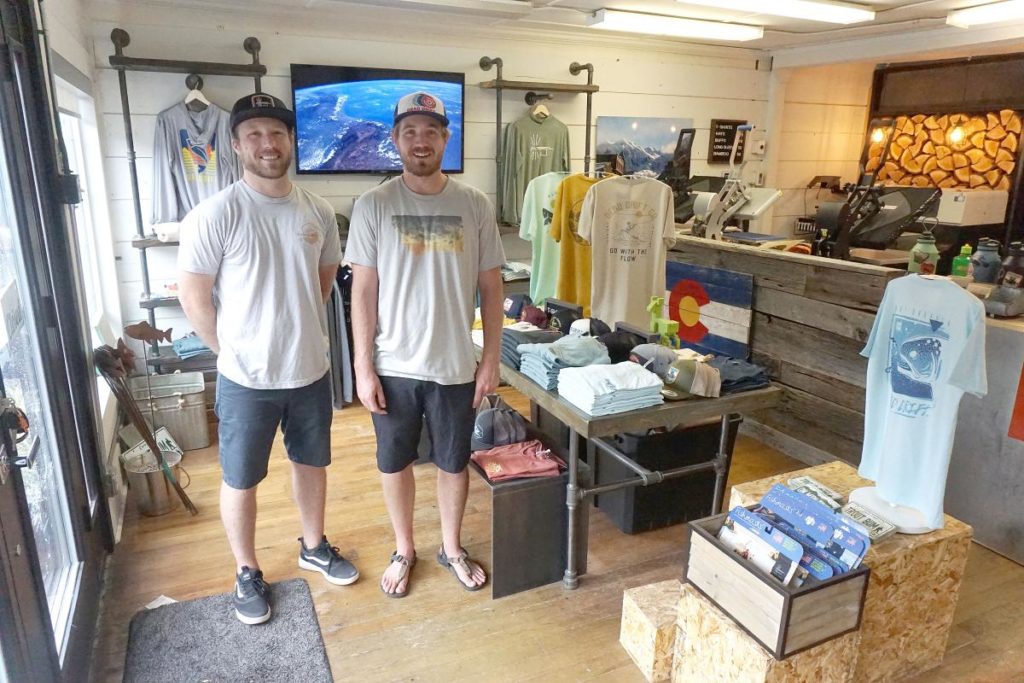 "We'd love to get fiber," Grant Doorn said. "We keep hearing rumors of fiber coming, but now I think they're going to bypass us in the canyon and go straight to Telluride, which is a bummer because it's really going to hinder the growth of Placerville."
---
Part Two: Residents In One Of Colorado's Most Remote Mountain Towns Are Celebrating The Arrival Of Broadband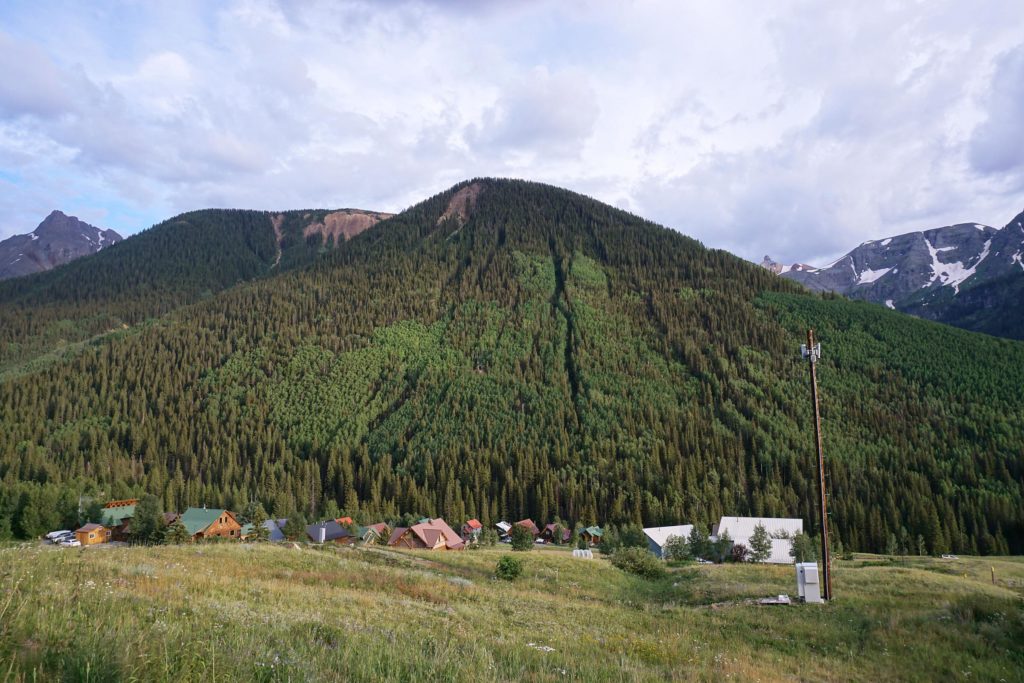 By: Scott Franz / Capitol Coverage
It takes a lot of grit, and good pair of ski goggles, to live in Ophir, Colorado.
Winds can reach 70 miles per hour during the winter in this old mining town nestled in a box canyon near Telluride. And sometimes, residents have to park well short of town and hike through the big snowdrifts to get back home.
"It feels like I could be on the side of Mount Everest hiking home in the snow, laptop on my back, ski goggles on," said resident Brian Morgan.
During some winters, avalanches cut off the main road leading to Ophir for days at a time. And until late last year, residents had to share beer and live through this without the benefits of high-speed internet.
Sydney Roop remembers what life was like before the town got connected.
"The only way we were able to get any outside information on weather, news and road reports would be our public radio station," she said.
That meant making sure to catch the daily newscasts with an FM radio. It also meant when she finished work in the nearby town of Telluride, she had to run through a long checklist before heading to the dead zone back home.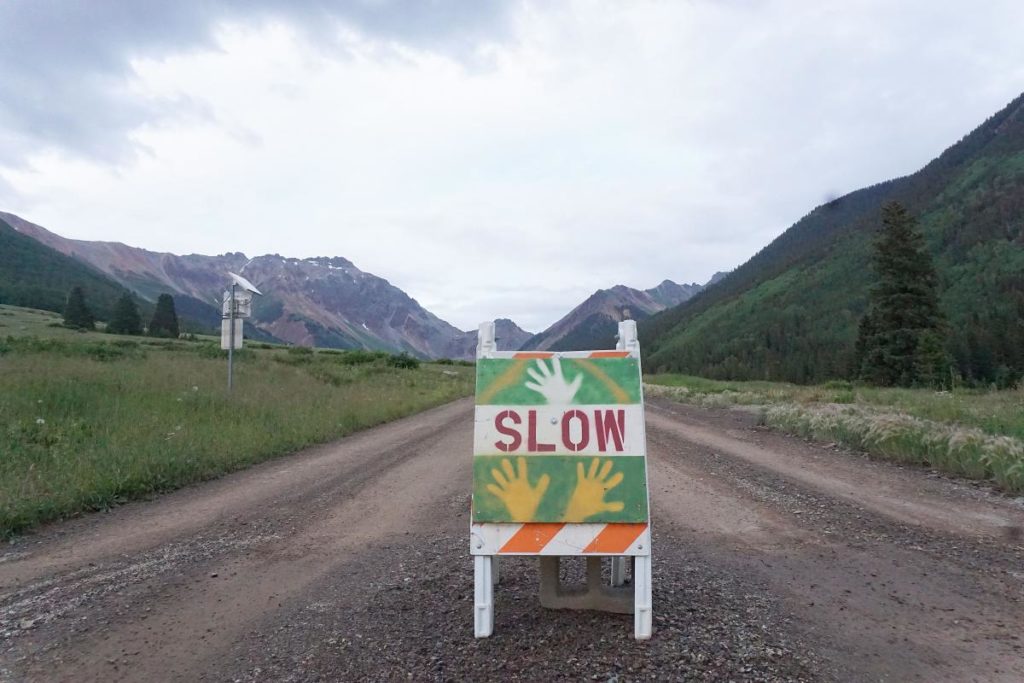 "I've got to stay in town and make these phone calls. I've got to run by the library. Use the internet," she said. "You'd have to plan. You'd have to really plan."
But Roop doesn't have to do that anymore thanks to the persistence and tenacity of residents like Morgan, who runs an IT business. After a bumpy four-year quest to get high-speed internet, Morgan won't forget the day the switch was flipped last December.
"Right away, it was amazing," he said. "It was super-fast. It doesn't sound very special, but I worked all day at home, for me it was great, because I didn't have to drive. It was unique."
It wasn't easy bringing a fiber optic cable to Ophir. But a few years ago, the residents trying to bring it here caught a break. Morgan said an IT worker from Steamboat Springs helped locate a piece of fiber buried under a highway near town. From there, it was digging a three-mile long trench and connecting it to a 50-foot tall utility pole that beams the signal to the entire town.
Resident Nathan Schroepfer says the new connection helps him run his mountain biking business from home.
"You feel like you're in the middle of nowhere, but we have high-speed internet," he said. "It's kind of an interesting twist to it. But I think the community is an outdoorsy group of people, so I don't know if it has the same effect here as it does other places where it locks people behind a computer screen. But my guess is usage has gone up, especially with the kids."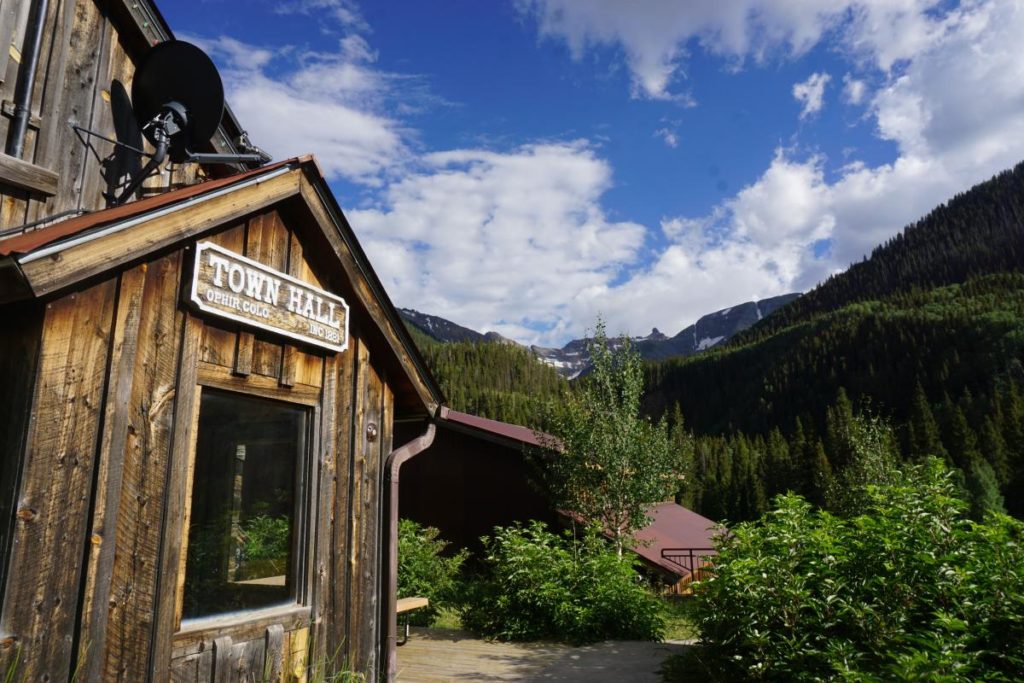 And Roop said the fast, new connection allows her to do things many in the modern world take for granted.
"It's completely changed my life," she said. "Like, it's convenient to use Wi-Fi to call. I can call my mom. My grandmother. My family. I can do online banking. I can do shopping for things. It's just a way to be connected to everything."
Morgan said it took many people, and years of patience, to get broadband to a place as remote as Ophir.
"We went down so many different avenues to get to where we're at, and we had so many different people involved," he said.
He said the former town manager, Randy Barnes, played a key role and helped pour the concrete needed to secure some of the new broadband equipment.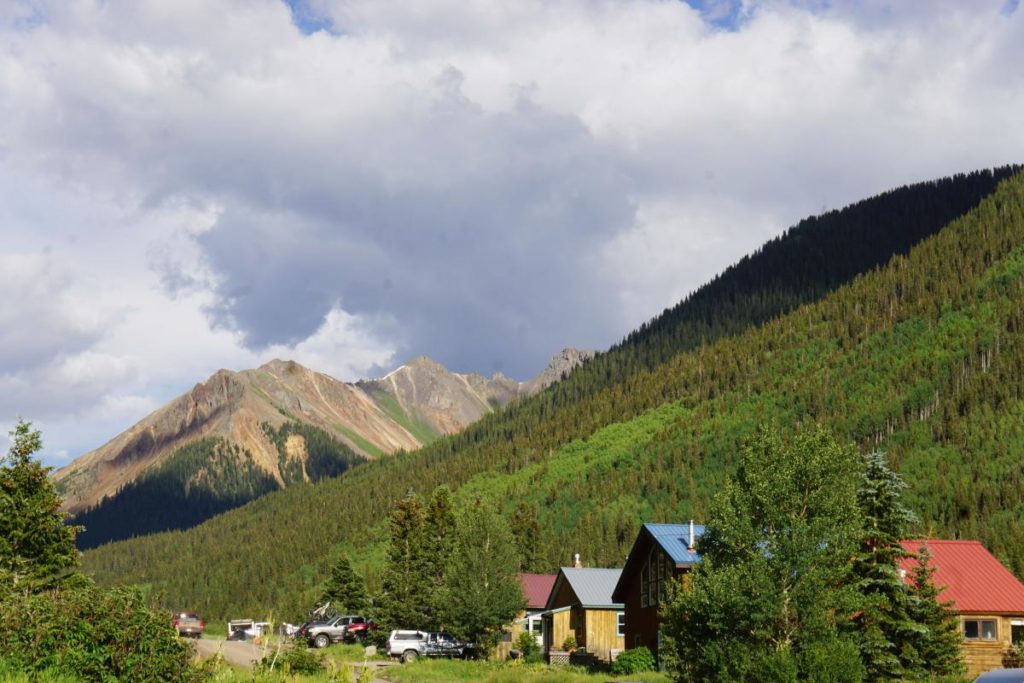 "It's way more important than our entertainment needs such as Netflix and YouTube and that kind of stuff," he said as he explained how broadband allows children to do online homework and other residents to telecommute. "It's been really great. Almost every time I'm walking around the neighborhood, I get a thumbs up" from people happy about the new internet.
And now, when an avalanche blocks the only road into town, residents wake up to find an email giving them a heads up.
---
Part Three: New broadband on Western Slope benefits businesses, hospitals and fans of classic western movies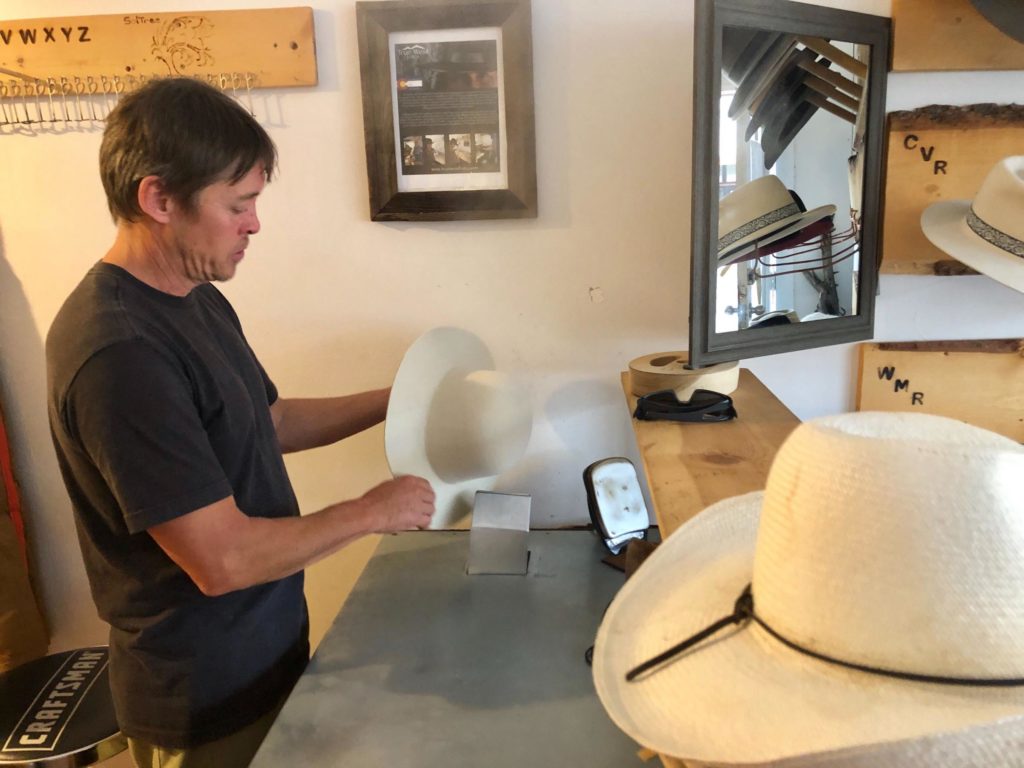 By: Scott Franz / Capitol Coverage
PAONIA – A new blazing fast internet connection in Paonia is making it easier for Americans who live far from Colorado to order cowboy hats that make them look like their favorite Western movie stars.
"I just (made a hat from), oh, what is the Kevin Costner movie … Open Range," said hatmaker Charles Rutledge as he used steam to help shape a new fur hat at his shop in downtown Paonia. "A guy came in and said, 'I've got to have that hat!' And we made it for him."
Using Skype and other online applications, Rutledge is able to consult with customers on the custom design of a hat. He uses the sage and red dirt he finds near his shop in some of the designs.
He's also shipping them across the country from a new online store. He said without the new high-speed internet connection he gets from Elevate, it would be much more difficult for his business to survive in a place like Paonia.
"The problem with Paonia is we have a few good months of tourism in the summer, but because we don't have a resort, we do not have much winter business; it's very hard to survive here," he said.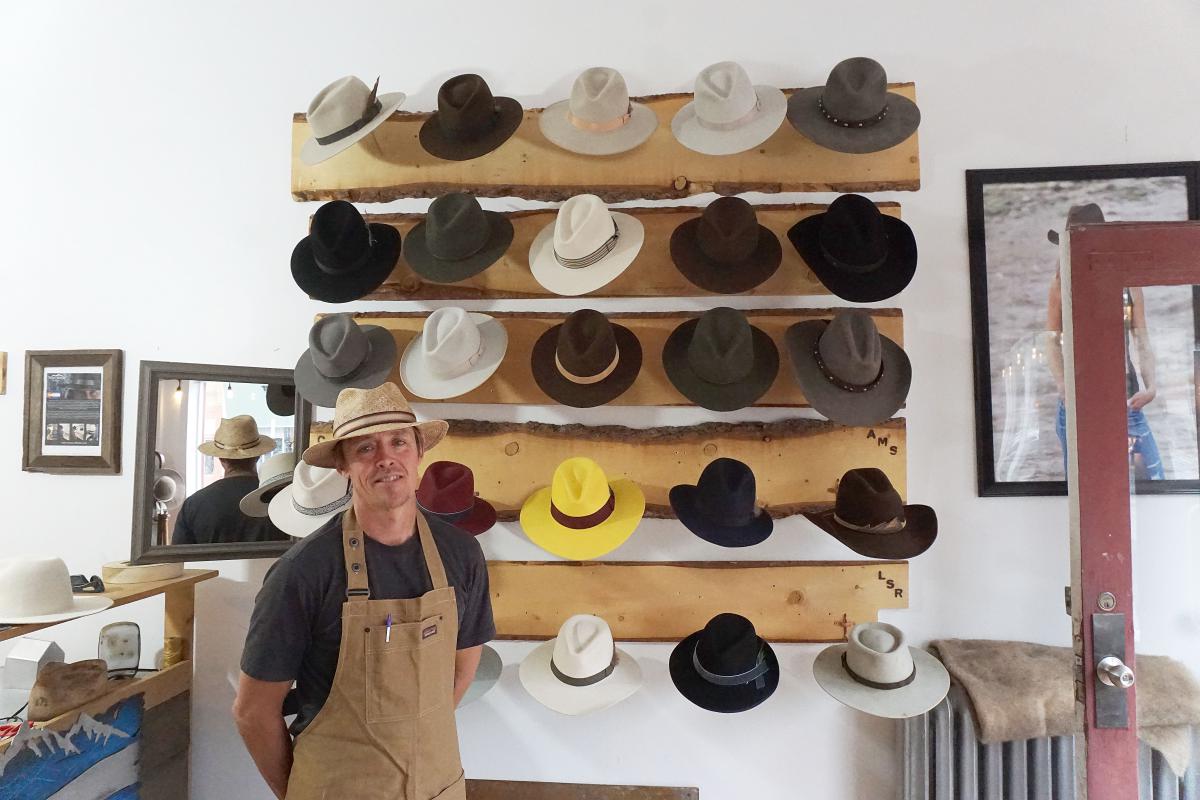 Mark Kurtz, of the Delta Montrose Electric Association, took notice of that trend. He said when the electric co-op tapped into the broadband business about four years ago, one of the first priorities was to bring faster service to Paonia.
"For economic development, there were just very few opportunities up there," he said. "You could not telecommute out of your home. And part of the driver we looked at up there as well is the coal mine started to close in Paonia, and when that happened, they had to reinvent themselves as a business community. And without high-speed internet, that's impossible."
Kurtz said contractors who helped deploy the new fiber on the broadband project hired some of the miners who found themselves in need of a new job. He said they were re-trained to install the fiber.
Delta Montrose Electric Association launched a new service called Elevate, which offers download speeds of 100 megabits per second for $50 a month. That's four times faster than the state's minimum threshold for what it considers to be high-speed internet.
Kurtz said the project, which has brought high-speed internet to thousands of residents in rural parts of Delta County, has been the most meaningful thing the electric co-op has done since it first started bringing electricity to homes 80 years ago.
"It's impactful," he said. "You know it's not about just being able to stream Netflix as I like to say. It's a whole lot more about allowing people to live a modern lifestyle and more importantly the economic development aspect of helping to pick up an area that has traditionally had some challenges on the Western Slope and putting them on par with folks in a city like Denver."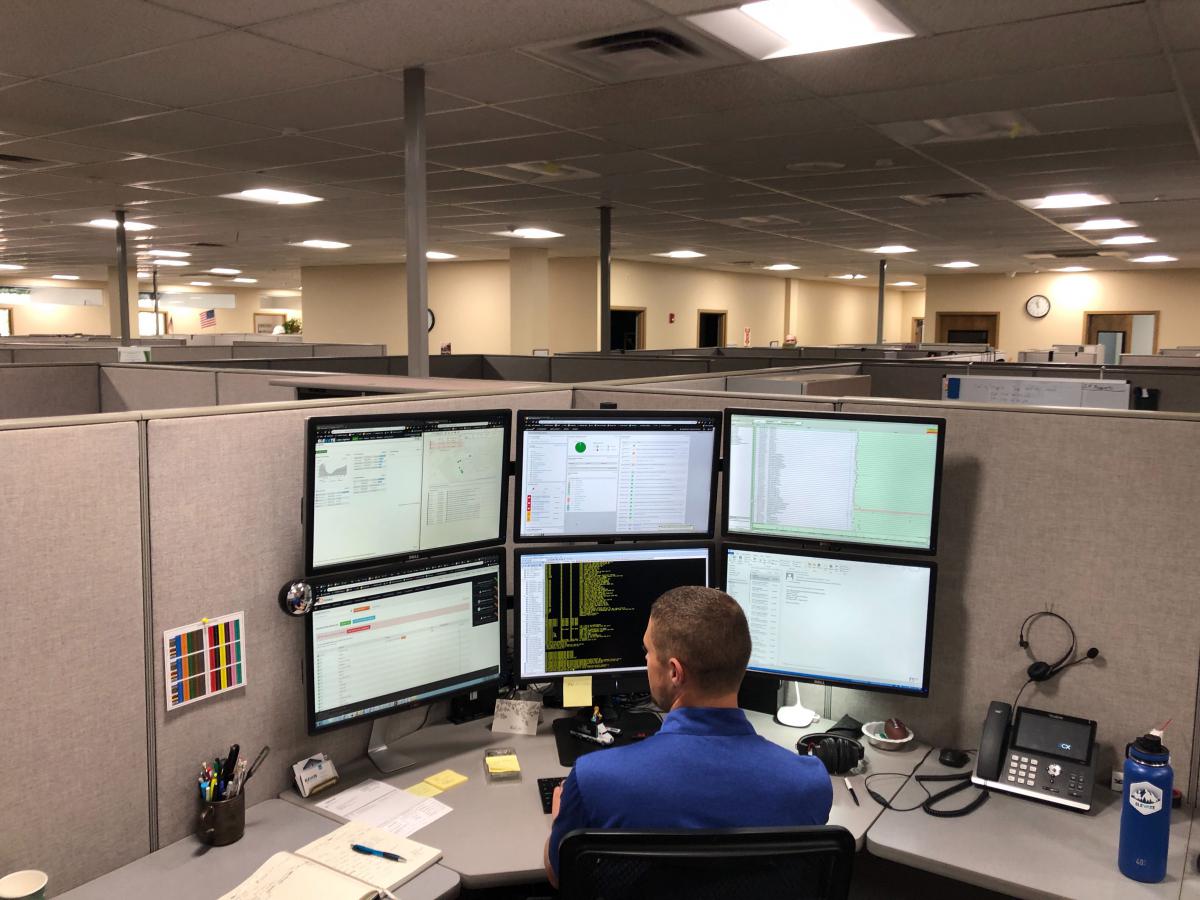 But Kurtz said the mission is not accomplished. There are reports the state's rural broadband grant fund, which Elevate has used to help build its network, is going to get smaller and more competitive in the coming years.
And he said there are many ranches and more rural homes outside of towns like Paonia that are still waiting to get connected.
"Things like precision agriculture are becoming much more important than they used to be. Very few people drive their tractors anymore. GPS drives their tractors," he said.
And those new agricultural machines need broadband to be effective. But Kurtz said it is more expensive to get these rural areas connected because homes can be one to two miles apart.
"It's incredibly important that the funding remain in place," he said. "When you get out into rural areas, just in good round numbers, when we start to move two or three miles outside of a community, our costs increase six-fold compared to what we are able to do inside a township.
---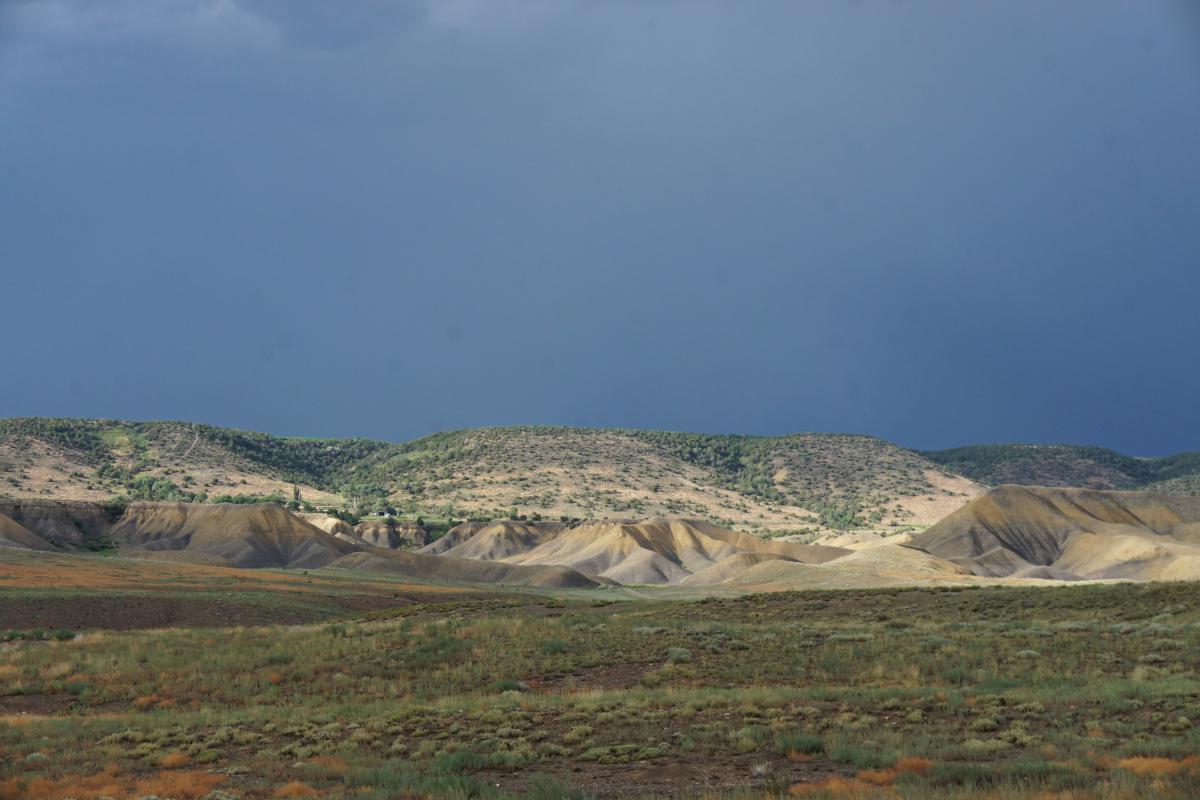 "This is not mission accomplished. We're maybe right now just starting to scratch the surface of what is required to get this all the way across Colorado, corner to corner. It's incredibly important to all of rural Colorado."
Capitol Coverage is a collaborative public policy reporting project, providing news and analysis to communities across Colorado for more than a decade. Eleven public radio stations participate in Capitol Coverage from throughout Colorado.