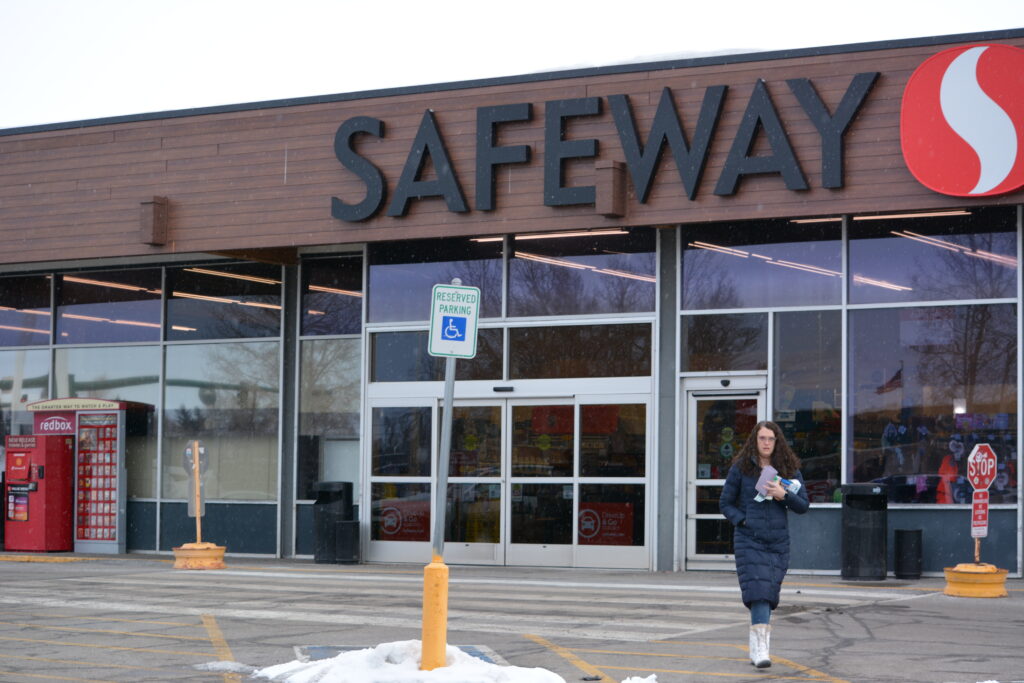 By Kate Gienapp
In January, Colorado Attorney General Phil Weiser visited Gunnison to kick-off a statewide listening tour with communities impacted by the proposed grocery chain merger between Albertsons and Kroger.
Kroger, which owns City Market, announced plans to acquire Albertsons, which owns Safeway, for nearly $25 billion dollars last October.
Weiser's office is now leading a multi-state investigation into the proposed merger. The listening sessions are what Weiser describes as a part of the initial 'investigation phase' to explore whether the merger is benign or if it hurts consumers or workers.
Gunnison County has two such grocery stores – one Safeway, and one City Market both located in the City of Gunnison. If the proposed merger did take place the two major stores would be owned by the same company.
PHIL WEISER: There's a concept called the Maslow Hierarchy of Needs. What are people most need to survive?
Weiser came by the KBUT studios while he was in Gunnison where he talked about what he learned from the community. He said the number of people that travel to Gunnison for groceries was surprising.
When you have food insecurity when people can't afford food. It creates all sorts of other stresses or strains on families and communities. This merger bears on food prices on food choice on the food pantries access to food, all those topics came up, people were really concerned and for understandable reasons.
Weiser said the number of people that travel to Gunnison for groceries was surprising.
PHIL WEISER: Geographic markets are sometimes not what you think. I didn't think about this until the hearing yesterday, we had a really good discussion. Lake City is dependent on access to food in Gunnison, meaning, the geographic market is not only Gunnison it could well include Lake City.
Gunnison County, which is one of the larger counties in the state geographically, is host to many smaller communities sprinkled throughout the region like Crested Butte, Lake City and Saguache who also rely on the two major grocery chains. Other communities like Almont, Pitkin, Sapinero and Parlin travel to City Market and Safeway for basics like milk and eggs.
Gunnison resident Steve Schechter talked about the additional needs in a popular resort destination where groceries not only serve the local population but visitors too.
STEVE SCHECHTER: As soon as a plane lands at the airport. They come over to City Market and they strip the shelves like locusts. And so locals have last choice on that. So we just can't have this merger.
LIZ SMITH: I think that many of us have, you know, made the big trip down to get us in whether you're coming from Lake City or Crested Butte only to find the same things to household staples that you need out week after week after week. And so having to grocery stores in such close proximity has been helpful, because if you're making that investment, and you know, some people, this is a 90 Minute one way trip, if you're making that time investment in your car, you know, to get to a grocery store, you have another chance to get the thing that you need.
That was Gunnison County Commissioner Liz Smith talking about the impacts the merger would have on rural communities like the Gunnison Valley.
Gunnison Mayor Diego Plata spoke at the listening session and said one of his biggest concerns was the potential change in pharmacies.
City Market and Wall-Mart have pharmacy departments, but a single store closure could mean access to medical supplies could come from only one store.
Representatives from the Gunnison Country Food Pantry were also in attendance. The pantry relies on City Market and Safeway each month for food donations.
According to the Gunnison Pantry, both grocery chains contribute a substantial amount of food for those in need. In 2022 Safeway donated nearly 40,000 pounds of food. City Market donated approximately 32,000 pounds.
The community has also seen an increase in the need for food assistance. Reports from the Gunnison Pantry show people asked for food assistance about 3,000 times in 2016. By 2022 that figure had more than doubled.
Longtime Safeway employee John Stefanic, who was in attendance for the meeting said his main concern was how pensions could be impacted by store closures.
JOHN STEFANIC: I mean, it's a big chunk of money. I mean, not not a big chunk of money. But he would hurt. Yeah, yeah, it would hurt. I mean, at our age right now, I'm 75 years old. There is not a place in town that's gonna hire me. I'll tell you right now.
Other Safeway employees, like Mary Kay Fry who worked at the store over 12 years are worried about the impact to pensions. Each month, she relies on about $100 from her pension.
MARY KAY FRY: It's not a lot but it helps.
Nancy Barnett is the produce manager at Safeway and said she too is against the merger.
NANCY BARNETT: I have a lot of concerns. I was born and raised in this valley. As they close union stores, it is going to affect the pensions. You know, and my retirement, you know, so that's that big and then with that the competition prices. I mean, it's high in this valley as it is, you know.
Weiser will continue his listening tour across the state as his office gathers information over the course of the next year.
PHIL WEISER: And she talked about the concern about some vulnerable people who are living paycheck to paycheck, and the concern that this could have on workers who are depending on their salaries, or pensions could have on people who are really watching their prices of food that gets to the core of why this really matters. There are people who are already on the edge, we want to make sure that a merger doesn't go through that pushes them off the edge.
Public comments can be submitted to the Attorney General's office through the website https://coag.gov/grocerymerger/
Weiser's next town hall will be in Golden on April 24.