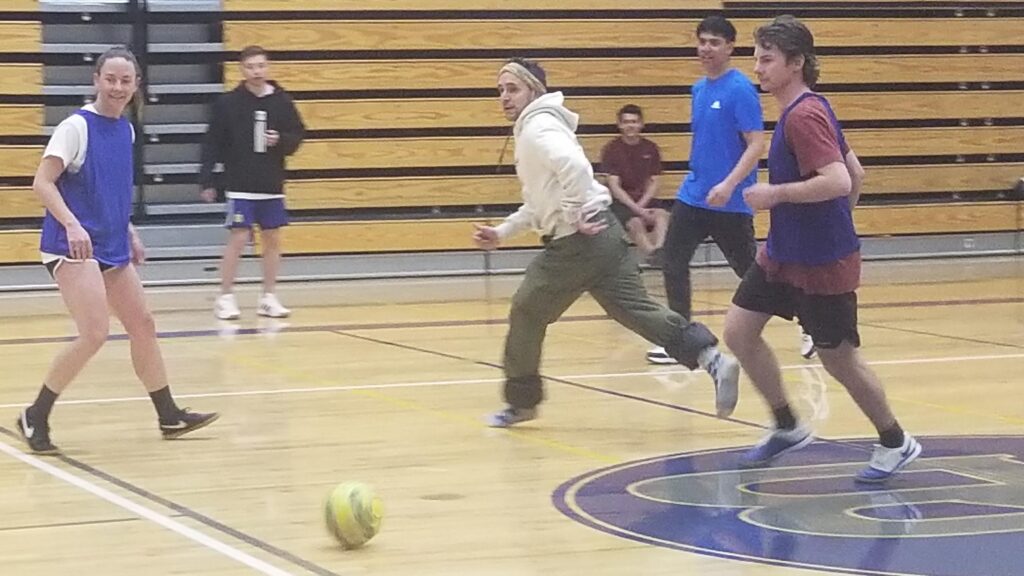 By Jake Scott
When the town's soccer fields are covered by snow, local soccer players choose to head inside to play. For KBUT, Jake Scott reports.
On Tuesday and Thursday evenings, the Crested Butte Community School Gymnasium reverberates with the sounds of futsal. On a busy night the stands are full of players watching and waiting their turn. Here you can find Brian Fennerty, who loves to play soccer, and is a familiar face at pickup games around the valley.
We started 30 plus years ago at the Old Town Hall. Really where the government seats are. We used to have four v fours down there with J-1s and some highschool kids, that are now adults, which really helped their soccer.
And our South American friends taught us about futsal.
Futsal is meant to be played on a hard surface like a basketball court, with a smaller, harder and less bouncy ball. The style of play encourages ball control and passing, and requires less endurance than traditional outdoor soccer. The design of the sport may be different but the hallmarks of the beautiful game are the same.
I love playing ball. I enjoy the company. Young and old, I'm the old.
One of the athletes drawn to the gym is Lloyd Hirschberg, the recreation coordinator for Crested Butte Parks and Rec.
There's just a lot of need for activities in the wintertime. It just so happens that futsal generates like really big numbers compared to I would say volleyball has been very busy but like a busy night volleyball can be like 20 something people, futsal on like a busy night, like I think you saw last week was like 40.
Compared to other winter activities, futsal has few obstacles for newcomers. All you really need is a ball, a relatively flat space, and a group of people. The players create their teams and work together to win.
Well, for me, it's one of the more social times, you can go a whole day skiing and not like run into someone or here's like, tests team sport. I look forward to that team-ness.
If you'd like to join, futsal starts at 8pm on Tuesday and Thursday nights in the Crested Butte Community School gymnasium. For KBUT, I'm Jake Scott.