KBUTs 2019 Summer Raffle tickets are on sale now! Support KBUT Community Radio and win one of ten stellar prizes!
How does the raffle work?
Purchase tickets online for a chance to win one of the prizes listed below. All proceeds benefit KBUT!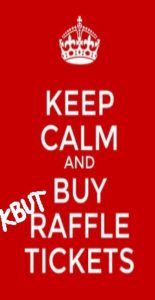 Single ticket cost is $5.00 + $0.50 processing fee. "Book" of five tickets is $20.00 + $0.88 fee. Avoid fees by purchasing tickets with cash or check at the KBUT studios (Mon.-Fri. 9-5) or at the Friday Night Fish Fry Friday June 14.
Drawing held Friday June 14 at 8pm at Fish Fry. Individualized ticket numbers will be emailed to you within one hour of purchase. Winners need not be present to win. All prizes can be mailed to winners except bicycles which must be picked up in person at KBUT. Winners will need an ID or ticket number to claim prize.
Online sales end at 4pm June 14, 2019. In-person cash sales end at 7pm June 14.
Questions? Contact KBUT Events Director KT Folz or Executive Director Toni Todd at 970-349-5225.
Raffle License number: 2019-14273
Crested Butte Mountain Educational Radio Inc. DBA KBUT-FM
KBUT's 2019 Summer Raffle Prizes:
→ Romp custom skis – One pair of custom skis ($1380 value).
→ Phish tickets – Two general admission stands tickets to three days (August 31-September 2) of Phish at Dick's Sporting Goods Park in Commerce City, Colorado ($600 value). Camping not included.
→ Arise Festival tickets – Two 3-day VIP Arise Festival tickets (August 3-5) plus camping in Loveland, Colorado ($700 value).
→ Ride Festival tickets – Two general admission weekend passes (July 12-14) to the Ride Festival in Telluride, Colorado ($450 value).
→ Crested Butte Film Festival tickets – Two CB Film Fest passes (September 26-29) in Crested Butte, Colorado ($500 value).
→ Monarch season pass – One adult season pass for 2019-2020 ($380 value)
→ NORCO men's townie bike – One Santiago 7-speed bike courtesy of HandleBar Bike Shop ($449 value).
→ NORCO women's townie bike – One Rio Vista bike courtesy of HandleBar Bike Shop ($270 value).
→ Blue Mesa pontoon boat rental – One full-day rental at Curecanti National Recreation Area's Elk Creek Marina ($395 value).
→ Sonic Bloom Festival passes – Two VIP passes (June 20-24) at Hummingbird Ranch, Colorado ($968 value).