Every two weeks, we sit down with community leaders, and ask our listeners to send in their questions.
We want you to join the conversation. Email your questions to News@kbut.org.
Community Matters airs every other Monday at 6pm. Archived episodes are below.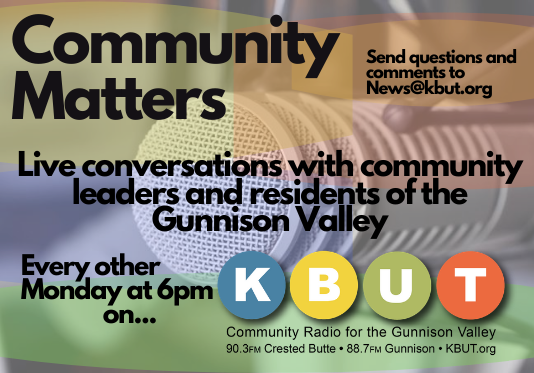 Archived Episodes and Excerpts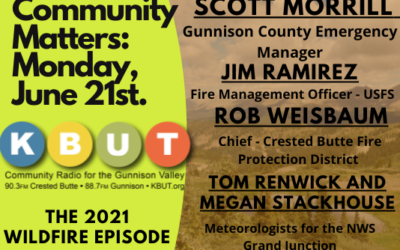 It's the 2021 Wildfire episode. Guests include local fire and emergency officials, and meteorologists from the National Weather Service.
Local fire officials join KBUT's Community Matters to talk wildfire prevention and preparedness
Monthly child tax credit payments start next month
State officials sound the alarm on the Delta Coronavirus Variant
And more…
Severe drought likely to affect local hay production
Brazilian Coronavirus variant found in El Paso County
Bears euthanized after killing and eating woman near Durango
And more…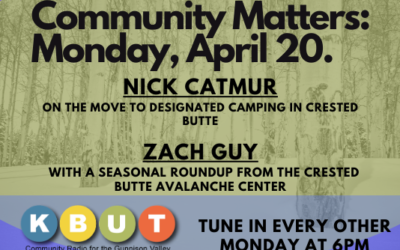 We talk designated camping in Crested Butte, and a seasonal roundup from the Crested Butte Avalanche Center.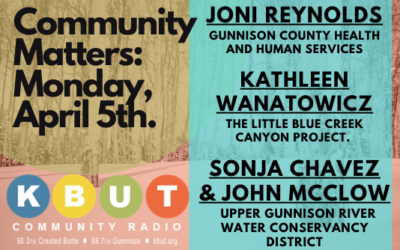 COVID19, Little Blue Creek Canyon Project, and water talk with the Upper Gunnison River Water Conservancy District.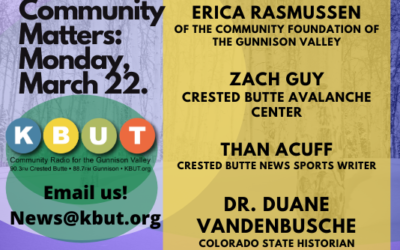 Community Foundation tackles mental health, Than Acuff talks local sports during the pandemic,, and CO state historian Duane Vandenbusche on his new gig.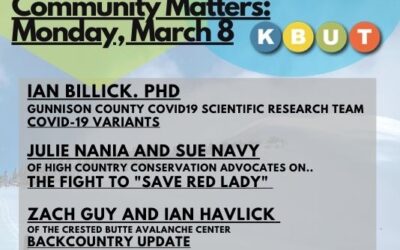 Is The Red Lady "Saved?" Should we worry about variants of COVID19? What's up with the snowpack? Listen now to Community Matters to find out!
Firearm storage bill advances in State House
Wyoming Governor abandons mask mandate
Billick talks Covid variants in Gunnison County
And more…
Gunnison County looks back on 1 year of Covid response
Covid variant in Buena Vista
Indigenous knowledge as trial evidence?
And more…
Coming up on Community Matters