In the beginning, there was Earth Station Radio, a tiny, low-powered radio station that served the last real ski town of Crested Butte, Colorado. People still speak of it in reverential tones.
In 1986, it became KBUT, a full-powered FM station serving Crested Butte and the upper Gunnison Valley with music and community information programmed almost entirely by volunteer community members.
Since then, the station has become a vital provider of local and national news, volunteer-powered music programming, and NPR.
KBUT is Community! But we can't do it without your support. Please consider donating and becoming a new or renewing member of KBUT. Help keep us strong and strange for another 33 years!
A KBUT Timeline:
1983: A group of people involved with Earth Station Radio begins applying to the FCC for grants and licensing to launch a community-based public radio station.
1986: KBUT-FM 90.3 signs on the air on December 20 from what was known as the "bus barn." The first song played is Van Morrison's "Wavelength."
1993: The station begins broadcasting NPR programming, including Morning Edition and All Things Considered.
1996: KBUT expands its signal reach to include Gunnison and the Jack's Cabin/Almont Triangle area.
1999: KBUT abandons the "bus barn" and moves to its current location at 508 Maroon Avenue, not far from town hall and the library and really, really close to the Marshal's Office. Really close.
2004: KBUT begins streaming its signal on the Internet.
2013: KBUT makes significant upgrades to its Gunnison signal following a successful campaign called Power Up. The new signal, at 88.7 FM, covers most of the Gunnison Valley.
2015: KBUT launches a local news department to cover community and regional issues.
2016: KBUT celebrates 30 years of Community Radio for the Gunnison Valley.
2018: KBUT becomes a full-fledged NPR Member Station after 25 years of airing the network's programming as an Affiliate Station.
2019: KBUT launches a new website.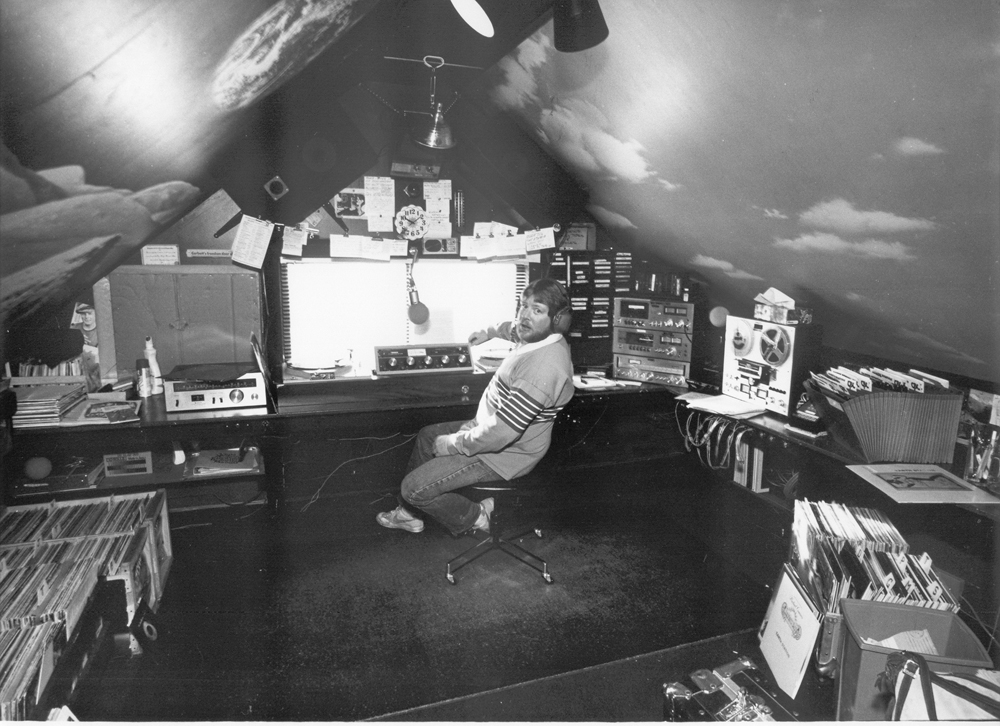 Bob Brazell, also known as "Lonesome Bob," behind the controls of Earth Station Radio (the precursor to KBUT) on December 13, 1980.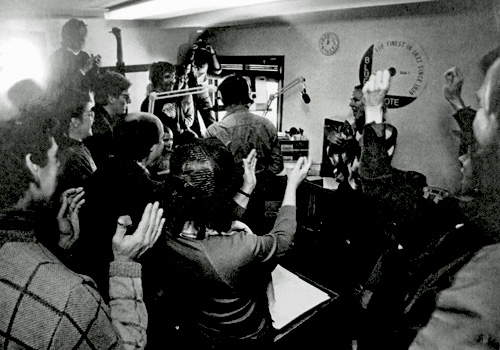 A cheer goes up in the KBUT studios on December 20, 1986 as the station signed on the air for the first time. Van Morrison's "Wavelength" was cued up on the turntable and became the first song ever played on KBUT.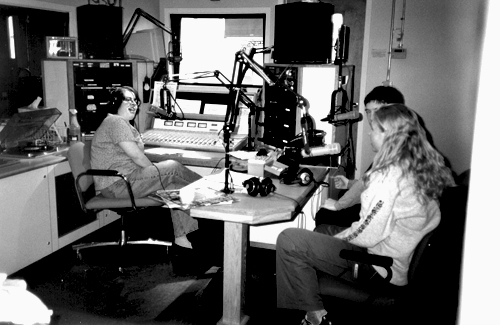 Lynda Jackson interviews guests on KBUT on April 2, 2001.
KBUT has had some really cool (and weird – what's with those lips?) logos through the years: