Board of Directors
The Board of Directors of Crested Butte Mountain Educational Radio, Inc (dba KBUT) consists of nine volunteer members elected to serve three-year terms. New board members are elected by sitting members at the annual board meeting.
The board's duties include hiring and evaluating the executive director, developing and implementing a long-range strategic plan outlining the goals and objectives of the station, fundraising and fiscal accountability.
Board meetings shall happen every other month, usually on the third Monday of that month. Dates are subject to change. Special board meetings may be called on occasion. KBUT meetings are open to the public. Board minutes are ratified at the following meeting and are available at the link below.
For more information and meeting agendas contact the KBUT Executive Director at 970-349-5225 or by email.
2023 Board Members:
Dave Colucci, President
Bryan Wickenhauser, Vice President
TJ McIntyre, Treasurer
Dan Bostick, Secretary
Autumn Clark
Chris Coady
Mike Loperfido
Kyle Ryan
Laura Silva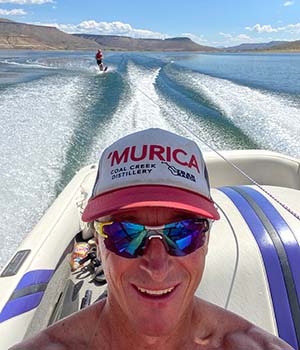 Brian Wickenhauser
Owner/Head Wrangler of the I Bar Ranch, a live music event center in Gunnison, CO. A strong listener and supporter of KBUT for 24 years! I appreciate the eclectic sounds of all the DJ's and the community nature of the station. I also sit on the Gunnison Nordic Board of Directors and am a passionate Winter & Summer skier. I'm also former Board President of the CB Nordic Center and a three time Grand Traverse champion. I have two beautiful daughters, Gianna & Eliza and am married to my lovely wife, Jennifer Michael. We make our home in Gunnison, CO. Pray for Snow!
KBUT Board Meeting Minutes:
2023
2022
2021
2020
2019
2018
November

September

July

May 12

March 12

January 13
2017
November 13

October 30

September 5

June 26

May 5

March 13

January 14