The KBUT Winter Membership Drive is finished!
If you missed our winter drive, become a Member today!
The funding we recieve through your membership is crucial to keeping us up and running. The fact that we are literally run by our Members means your membership is imperative to our very existance. All of KBUTs staff and DJs are Members, as are our Board of Directors. Most importantly, only Members can vote in our Annual Meeting.
We're focusing on membership during the upcoming winter drive! If you've never been a KBUT Member before or it's been awhile, sign up today and be a real part of community radio for the Gunnison Valley!
Don't see the donation form in your web browser?
Visit our donation processing site or call 970-349-5225 for assistance.
Have you been a long time KBUT Member? Thank you so very much!!!
We couldn't do it without you and we wouldn't want to. Consider becoming a KBUT Sustaining Member and show that love to KBUT year round. You can find more info and sign up below!
 Be a KBUT Sustaining Member
Support KBUT year round as a Sustaining Member. It's easier for you and better for KBUT. Simply decide how much you'd like to donate each month and we'll take care of the rest.
All of our Sustaining Members get our wonderful KBUT tote bag. We've also put together a special gift bag as a thank you for Sustaining Members at the $25/mo level or above.
Here's a guide to how being a KBUT Sustaining Member works. You can also contact our Membership Director Alec Lindeman with any questions at (970 349-5225 ext. 217 or alec@kbut.org
Don't see the donation form in your web browser?
Visit our donation processing site or call 970-349-5225 for assistance.
Thank you so much to Chef John Leonardi and Soupcon Bistro for your generous donation of our Early Bird Prize!
Thank you so much to Vail Resorts Epic Promise progame for the generous donation of our Grand Prize!
Check out our great thank-you gifts!
We are always excited to come up with great thank-you gifts for your donation and this time is no different! This last December, long time DJ Bonnie the Everyday Housewife retired from her Tuesday afternoon show. Bonnie continues to be a great friend of the station but we wanted to honor her time as a KBUT DJ with the Bonnie the Everyday Housewife commemorative hoodie! Check it out along with all the other great thank-you gifts and…well, thank you!!*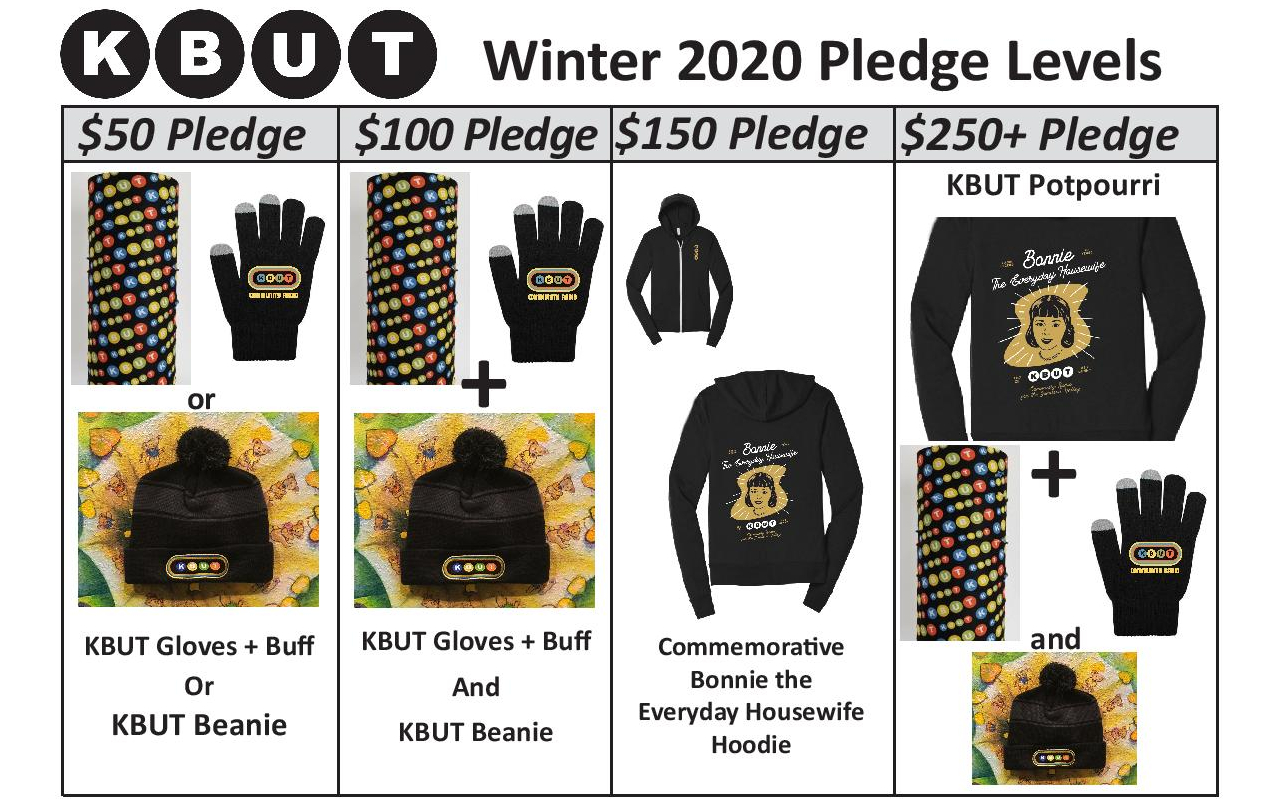 *If you live within the town of Crested Butte, please stop by during business hours for your thank-you gifts. If you live outside of Crested Butte, we will happily mail them to you unless you wish to make special arrangements (contact Alec Lindeman at alec@kbut.org). Thank you so much for be a KBUT Member!