COMMUNITY MATTERS
Every other Monday from 4-5 PM we talk with local leaders and organizations about happenings and relevant information for the Gunnison Valley.
Archived Episodes and Excerpts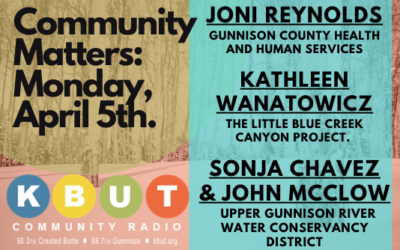 COVID19, Little Blue Creek Canyon Project, and water talk with the Upper Gunnison River Water Conservancy District.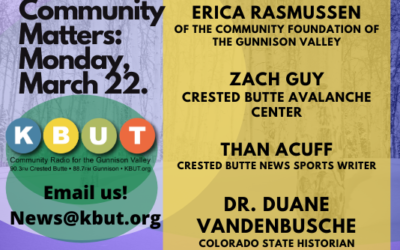 Community Foundation tackles mental health, Than Acuff talks local sports during the pandemic,, and CO state historian Duane Vandenbusche on his new gig.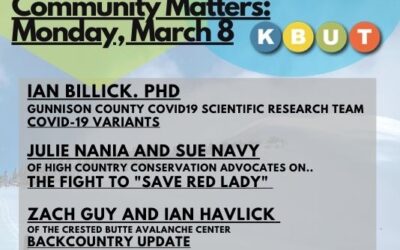 Is The Red Lady "Saved?" Should we worry about variants of COVID19? What's up with the snowpack? Listen now to Community Matters to find out!
Firearm storage bill advances in State House
Wyoming Governor abandons mask mandate
Billick talks Covid variants in Gunnison County
And more…
Gunnison County looks back on 1 year of Covid response
Covid variant in Buena Vista
Indigenous knowledge as trial evidence?
And more…
Covid re-infection cases in Colorado
Gun storage bill progresses at the Capitol
Local scientist recognized for her work on Bark Beetles
And more…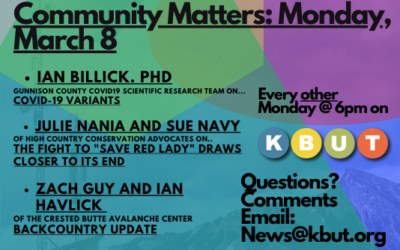 Next on Community Matters: Red Lady, COVID variants, and Backcountry Update.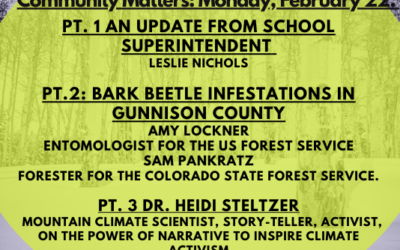 KBUT's Community Matters...